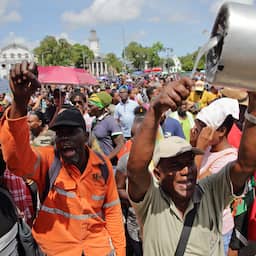 At least fifty people have been arrested after the riots in the Surinamese capital Paramaribo. About 20 people were injured in the riots. As far as is known, these are not life-threatening injuries, the Surinamese authorities report to news site Starnieuws.
Friendly protests against the Surinamese government took place on Friday, but they turned into riots. The parliament building was stormed and petrol stations and shops were robbed.
President Chan Santokhi said he respected the freedoms of demonstration and protest, but criticized the way in which it was done. He had a task force set up and said it would hunt down all rioters.
The authorities already imposed a curfew on Friday evening, closed the center of Paramaribo and called on shopkeepers to keep their businesses closed "in the interest of public order".
---
---