Camp Butmir, in Sarajevo, is often a forgotten point on maps of military bases in Europe. In this fenced enclave, installed on the edge of the airport after the Dayton Accords, which 27 years ago put an end to inter-ethnic fighting in Bosnia-Herzegovina, people are still working to quietly contain the badly extinguished embers of the war (1992-1995). Especially since the Ukrainian conflict has revived the firebrands of divisions between communities. Also, at the end of January, the thick blanket of snow that covers the city gives the comings and goings of the soldiers a false air of calm.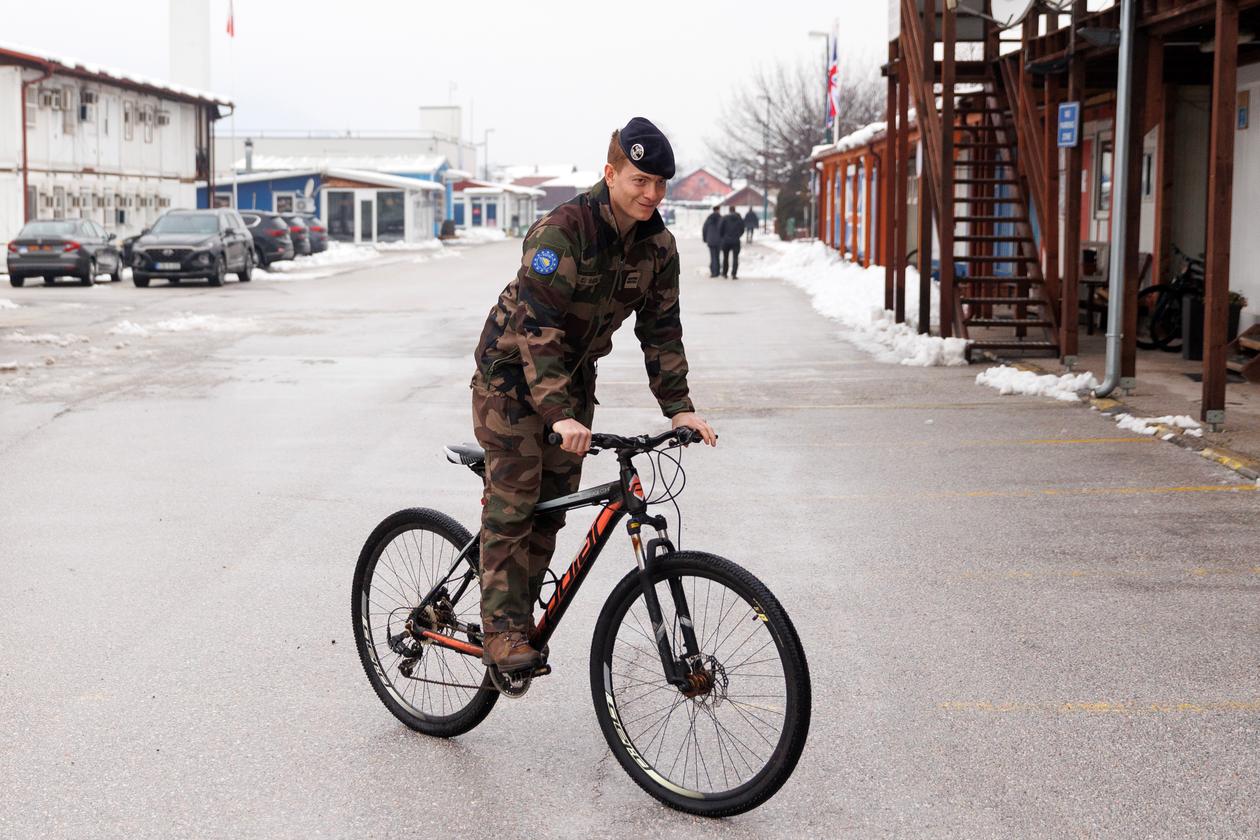 A French Eufor soldier at the Butmir base in Sarajevo on January 25, 2023. ARMIN DURGUT FOR "THE WORLD"
From 900 to 1,000 American and European soldiers, from twenty different countries, are busy at Camp Butmir. Simple barracks are set up around alleys named after the main towns of Bosnia and Herzegovina. Vehicles are neatly lined up in large adjoining parking lots. There are as many off-road trucks as light armored vehicles such as Humvees or even TAB or Piranha-type troop transport vehicles and a few maneuver and assault helicopters.
In the aftermath of the war in 1995, Camp Butmir was the headquarters of the NATO stabilization force (SFOR) which numbered up to 60,000 men. In 2004, the acronym changed, SFOR became Eufor Althea. The European Union (EU) has taken over the steering. The numbers, which were still 7,000 men, were gradually reduced. But since 2019, the base has continued to discreetly regain thickness.
"Security" work
The main increase in numbers came just after the outbreak of war in Ukraine, at the end of February 2022, with 500 additional troops coming from Austria, Romania, Bulgaria and Slovenia. In recent months, Germany and the Netherlands have also decided to join Eufor: German troops arrived in September, the Dutch in January. A multinational battalion made up of 500 men, including Turks, Austrians, Bulgarians, Romanians and North Macedonians, trains regularly to be ready to intervene in the event of possible tensions.
Read also Article reserved for our subscribers Bosnia: twenty-five years later, the "lost generation" of the Dayton agreement
These figures are "insufficient", noted a report by the think tank European Council on Foreign Relations (ECFR) in September, but while "in recent years the closure of the office of the High Representative and of Eufor seemed imminent, the current situation shows that Western countries are aware of the fragility of peace in Bosnia", also noted the ECFR.
You have 62.66% of this article left to read. The following is for subscribers only.
---
---