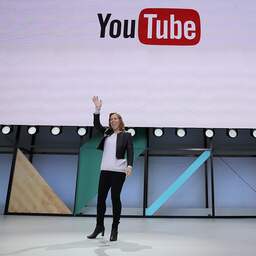 Susan Wojcicki has announced that she is stepping down from her position as top woman at YouTube. In the years that she was at the helm, she was regularly criticized.
Wojcicki was at the helm of YouTube for nine years. Before that, she already worked at the search giant, which took over YouTube in 2006. Because of her role and influence, she is considered one of the most powerful women in the world of tech.
Wojcicki will have an advisory role at Google and parent company Alphabet. In addition, she will focus on her family, health and personal projects.
Under Wojcicki's leadership, YouTube came under fire from advertisers in 2017. They saw their ads appear with extremist videos. Large companies then withdrew their advertisements. This resulted in a loss of millions of euros.
In 2021, YouTube was accused of bowing to pressure from Russia. The video platform would remove videos of Putin critic Alexey Navalny on behalf of the Russian authorities. Wojcicki avoided questions about that.
After her departure, Neal Mohan becomes the new CEO of YouTube. He was already responsible for the development of the video site. He is also in charge of the day-to-day management of the video and advertising division at Google.
---
---