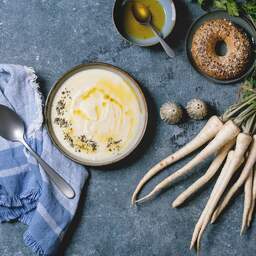 ---
16 Feb 2023 at 21:36
Now that everything is getting more expensive, we pay more attention to the little things. Fortunately, this can be done without sacrificing taste. In the Lekker Goedkoop section, vegetable expert Mari Maris gives tips on seasonal vegetables: affordable and sustainable. This week: parsnip.
Excavations show that parsnips were already eaten in the Stone Age. That would have been wild. It was the Romans who started cultivation around 200 BC. It seems that Emperor Tiberius of Germania even received part of the tax in parsnips.
Before we had sugar beets, parsnip was widely used as a sweetener. There are also great desserts to experience. In addition to sweet, the taste is perhaps best described as firmly creamy. You could say: like edible coffee creamer. If that didn't sound so dirty, because it certainly isn't.
The parsnip season runs until March and starts again in June. The price for organic parsnips at Albert Heijn and Jumbo is 1.75 euros for 400 grams. The kilo price of 4.38 euros for a kilo is the same at Plus, but the package there is 500 grams in size. At Dirk you will spend less for 400 grams of organic parsnip: 1.49 euros.
---
I like them best with a bite. When cooked, the structure loosens, like a floury potato.
Mari Maris, culinary author
---
Count for a main course of 250 grams to keep 200 clean. As a garnish or starter, dirt 100 to 150 is enough. Store parsnips cool and dark in a cloth or paper bag.
How do you recognize a good parsnip? A fresh parsnip is ivory white (not brownish) and firm with a tight skin. It should not be wrinkly or pliable. The shape can be a bit whimsical, but that doesn't make it taste less.
There are extremely long, slender varieties and somewhat plumper 'half-length' ones. If you have parsnips in the garden, the leaf contains a substance that can cause second-degree burns when combined with the sun. That seems to me a good reason to harvest it on a sunny day with gloves or to ignore it. Rabbits love it.
Peel parsnip with a vegetable peeler and cut away the deeper stem roots. Cut off any thin side carrots and add them at the last. I like them best with a bite. When cooked, the structure loosens, like a floury potato. That can be useful for a cream or puree.
What can you do with parsnip?
stamping. At least that's what we Dutch people used to do. Before the potato reached the Netherlands, it was often served as a puree, for example for hutspot. In combination with carrot, it is a bit sweet to me, but with some celeriac you get a perfect, spicy balance.
Which seasonings go well with parsnip?
Apple, basil, chives, tarragon, mace, honey, cloves, bay leaf, lavender, maggi (lovage), horseradish, mild mustard, nutmeg, nuts, mushrooms, parsley, rosemary, roses, sage, celery (pale, tuber and herb), thyme, vanilla, fennel seed, watercress, samphire.
For cream or puree, cut the parsnip into pieces and sauté them, add a little bit of liquid and let it cook over a low heat for ten to twelve minutes. Then puree, possibly with crème fraîche, (almond) cream, butter or tasty oil.
Frying, baking or roasting beautiful pieces or slices about 1 centimeter thick takes four to seven minutes.
Roast or roast: with tasty oil or butter in a hot oven, a parsnip is al dente in 15 to 25 minutes, depending on the thickness. Thinly sliced, it also tastes pretty funky raw. Then add thyme oil, for example. He is easily controlled; Seasoning sparingly is therefore often a good idea.
Mari Maris wrote six cookbooks in which vegetables play the leading role. She likes to put as much flavor on the table as possible with as little fuss as possible.
Unfortunately, this content cannot be displayed. We do not have permission for the necessary cookies. Accept the cookies to view this content.
Change cookie settings
---
---