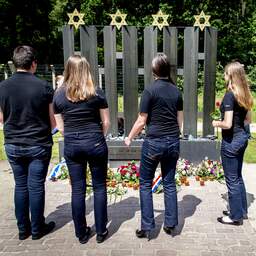 ---
Feb 17, 2023 at 05:57Update: 2 minutes ago
Teachers receive help in teaching about the Holocaust. They also receive tips on what to do if students deny the systematic genocide of Jews during the Second World War. That is what Eddo Verdoner, the National Coordinator for Combating Anti-Semitism (NCAB), says to NU.nl.
That is especially necessary now, says Verdoner, because right-wing extremists are increasingly trying to normalize anti-Semitism in society. "Young people are sensitive to that."
As an example, the government commissioner cites the anti-Semitic slogans that right-wing extremists projected on the Anne Frank House at the beginning of February. "That is why we must act now against the spread of this anti-Semitic ideology."
Verdoner is launching the so-called support center for Holocaust education and anti-Semitism together with the municipality of Amsterdam. The first tests with teaching methods and support for teachers will take place in the capital.
The cabinet's chief adviser on anti-Semitism hopes the rest of the country will follow suit "as soon as possible". "There is a great need."
Track Discrimination and RacismStay informed with notifications
Lesson packages, guest lecturers and tips for excursions
Schools and teachers can request teaching packages and invite guest teachers via the support centre. They can learn what works in having a conversation in class when students deny the Holocaust. They also receive tips for useful excursions.
Verdoner already advises teachers to teach lessons about the Holocaust based on personal stories about people from the school's region who lived through that period.
"Preferably someone of the same age as the students. This makes it more likely for them to be the story about a person from their environment, who could also have been their boyfriend or girlfriend."
Concerns about anti-Semitism in current cost crisis
In October, Verdoner told NU.nl that the fight against anti-Semitism is urgent. According to him, hatred of Jews would certainly increase, due to the cost crisis and growing poverty. "I hold my heart," he said at the time.
The NCAB also presented its Anti-Semitism Work Plan in October. This will run until 2025. The support center is one of the outcomes of the plan.
---
---