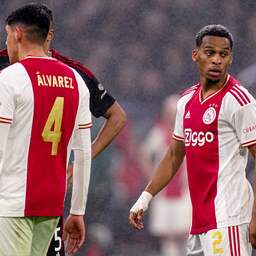 ---
17 Feb 2023 at 06:31
For the first time in three years, Ajax failed to shoot at least once between the posts on Thursday. The game against Union Berlin also gave the Amsterdam club little hope for the return, but the starting position is still reasonable after the 0-0 in the Johan Cruijff ArenA. Trainer John Heitinga and defender Jurriën Timber see opportunities to advance to the eighth finals of the Europa League.
"What was positive? That we kept a clean sheet. And the team spirit was also good. We fought", Timber said on Thursday an hour after the draw in the ArenA. "But the rest has to be better and I'm sure we can."
Heitinga spoke words to the same effect. He praised keeper Gerónimo Rulli, who had made a great goal, and there had been some hard fighting. But he acknowledged that the level must be raised in order to win in Berlin next week.
"The game has to be faster. We have to run more and change positions more. We need variation," said Heitinga, who does not expect Union to play differently in its own stadium than in the ArenA. The number two in the Bundesliga is known for giving almost no goals away.
"Union is stiff and plays very direct. They prefer to put every ball they win immediately behind the opponent's last line. They have been doing that all season, so probably next week too. And that is difficult to play."
Unfortunately, this content cannot be displayed. We do not have permission for the necessary cookies. Accept the cookies to view this content.
Change cookie settings
'We still have to look back at the images'
The most painful statistic of the first leg in the ArenA was that Ajax never shot at the Germans' goal. And that was the first time since the disastrous away game with Getafe in February 2020. "Union was very good defensively," said Timber. "I find it difficult to say exactly how it is possible that we did not create any opportunities. We still have to look back at the images."
Heitinga immediately saw where things went wrong. "We have to use the spaces behind Union's defense. The ball has to go there, no matter how small that space is. And then it can work out. Then possession of the ball must lead to opportunities."
The trainer also said not to worry too much. "In recent weeks we have always created many opportunities and scored many goals. If the level goes up, that should also work against Union. I am sure that we will shoot at goal next week in Berlin."
The return between Union and Ajax starts on Thursday at 9 p.m. in Stadion An der alten Försterei. The team from Amsterdam will first play on Sunday at 4.45 pm in the Eredivisie at home against Sparta Rotterdam.
---
---