---
Feb 15, 2023 at 5:17 PMUpdate: 5 minutes ago
Tim van Rijthoven is disappointed that physical complaints are getting in his way again. The Dutchman could not impress as much at the ABN AMRO Open as he did last summer at the Rosmalen grass tournament, where he made his breakthrough with his tournament victory.
"During the finish I just said to my coach Igor Sijsling that I feel that my progression is inhibited by my body," said Van Rijthoven after the defeat in the opening round against American Maxime Cressy. (3-6, 7-6 (2), 3-6).
The Dutchman was treated several times on his back in that match. "Quite a lot of players suffer from pain, but with me it's reasonable on the assembly line. I think it's a shame, because I know that the potential is there and that I can play tennis very well. It's just a pity that I don't always can show through the flaws of my body."
In the run-up to the tournament, Van Rijthoven was struggling with an inflamed toe and in recent months he had more physical complaints. "Those are things that really count at this level. You have to make hours before the tournament starts and I was not able to make those."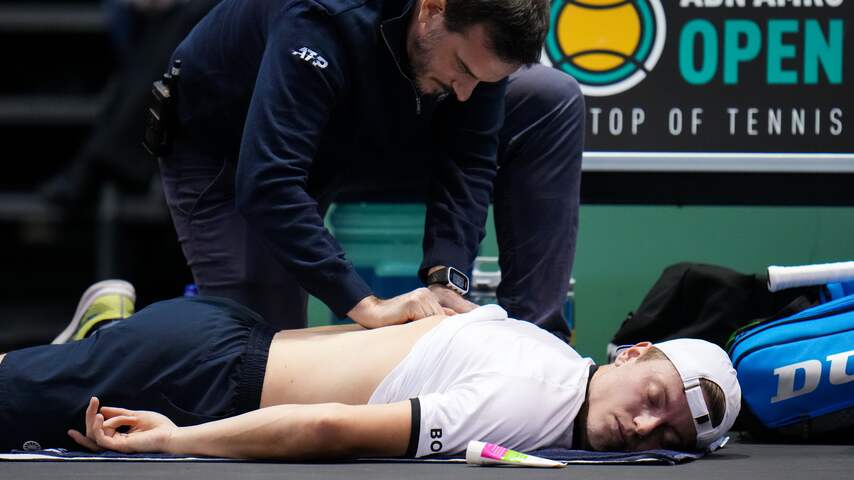 Tim van Rijthoven was treated several times during the match in Rotterdam.Photo: Getty Images
'It felt like a gambling game'
Van Rijthoven did not have a suitable answer to the service violence of the number forty in the world on track 1. Cressy is one of the few players who immediately goes to the net after both his first and second serve. His second serve was often over 200 kilometers per hour.
"It sometimes felt a bit like a gambling game," the number three in the Netherlands admitted. "Actually, I've never seen someone serve his first and second serve so hard yet so close to the lines with so few double faults."
In the first and third set, one break Van Rijthoven was fatal. "I didn't serve fully, because I was a bit more reserved with my back. I know the feeling when the cramp shoots in and then I lose some speed."
The 25-year-old Van Rijthoven now returns to the Challenger circuit to hopefully reach the top hundred of the world rankings soon. De Brabander currently occupies 110th place. He has never been among the top 100 tennis players in the world.
---
---