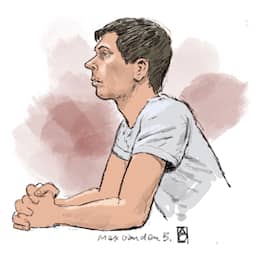 Max van den B., the 30-year-old man who previously stood with a torch in front of the house of politician Sigrid Kaag, was arrested on Tuesday during the broadcast of talk show HLF8. On a live stream of himself, he can be seen making noise with a megaphone while the guests are sitting at the table inside.
At some point, the police arrive to arrest him.
The police confirm that a thirty-year-old man was arrested at the studio for causing a nuisance there. He was arrested for disturbing public order. He was released after receiving a report.
At the start of the broadcast of the talk show, presenter Hélène Hendriks paid attention to the man with the megaphone, who could also be heard in the studio. "You hear a noise here, yes I can't ignore it. There is someone with a childish megaphone here at the window. But don't worry about that, it will be all right."
Van den B. was recently sentenced to five months in prison on appeal for threatening D66 leader Sigrid Kaag with a burning torch. The man went to her house on January 5, 2022 and shouted conspiracy slogans, which was filmed by a co-defendant.
The court in The Hague also imposed an area and contact ban on Van den B.. Van den B. had already served his prison sentence in pre-trial detention.
---
---