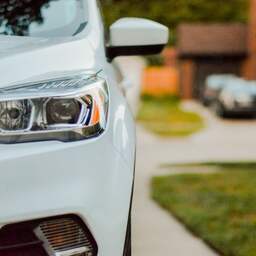 ---
13 Feb 2023 at 21:38
You hit a post or flower box when parking, or scratch your paint with the wrong or dirty sponge while washing the car. Can happen, but it is not always wise to claim that damage from your car insurance. Sometimes it is cheaper to pull out your wallet for the repair yourself.
Damage that you cause to your car yourself is not covered by the mandatory basic WA coverage of a car insurance policy. A WA+, also known as limited hull coverage, reimburses a limited number of damages to your own car. For example, extreme weather, burglary, theft, collisions with animals and sometimes vandalism are also insured. If you have so-called all-risk insurance, you are covered for almost all damage to your car that is caused by your own fault.
Before submitting a claim, it is important to know approximately what the repair will cost. Therefore, request a quote from different garages. "It is best to always calculate for yourself whether it is wise to claim damage before you submit it," advises Menno Dijcks, car expert at comparison site Independer.
If you claim the damage from your insurer, you will lose claim-free years and your premium will increase in subsequent years. If you have to pay less for the repair out of your own pocket than what you would have spent on that extra premium, it is therefore cheaper not to file a claim.
---
Whether you claim a hundred euros or ten thousand euros, you lose the same number of claim-free years.
Menno Dijcks, car insurance expert at Independer.nl
---
A paint pen can save a lot of money
An even cheaper option is to repair it yourself. A paint pen to remove a superficial scratch often costs no more than 15 euros. Repairing the simplest scratches on the mirror cap or grille can easily cost 75 euros at a garage. And the cost of repairing paint damage on the hood or roof can amount to more than 300 euros.
A scratch that seems to disappear when you wet it, can often be easily removed with a paint pen. The same goes for scratches that are so shallow that you can't really follow the groove with your fingernail. Make sure you know the exact color of your car if you are going to buy such a paint pen.
The color code is on the so-called VIN plate (Vehicle Identification Number, formerly referred to as chassis number), which the manufacturer affixes to every car. You can look up the location of that VIN plate in the owner's manual or online. Today, in many cars, it is located behind the windshield, somewhere above the dashboard. With the color code you can then order the right paint pen yourself online or at the dealer.
Also take into account the deductible
Also consider the deductible when considering whether to claim the damage or not. With most insurers, this is standard between 130 and 150 euros, but it can rise to 1,200 euros if you opt for this in exchange for a lower premium. You will pay that amount yourself anyway, if you submit a claim.
Furthermore, with car insurance you pay the deductible again and again with every claim you submit. This is therefore very different from health insurance, where the deductible is your maximum personal contribution over a whole year.
And then there are the so-called claim-free years, which may be at stake in the event of a minor damage that you have caused yourself. If you knock on your insurer's door to pay for damage you have caused to your own car or someone else's, you lose five claim-free years in one fell swoop. This means that your premium will increase the following year. Only if you do not drive a claim in the following five years will you again have the same premium discount as you had before the claim. Menno Dijcks of Independer: "The amount of the claim does not matter: whether you claim a hundred euros or ten thousand euros, you lose the same number of years."
You can also go back on your previous decision
Finally, it is good to know that insurers have a cooling-off period. If you decide to claim a claim, you usually have a period in which you can reconsider that decision. For example, it may be that just after the damage occurred you were short of cash to pay for the repair yourself, but you have money a few months later. Or you reacted impulsively and claimed the damage directly from the insurer, while afterwards it turns out that the repair costs are lower than the extra premium you will pay due to the loss of claim-free years.
"Most insurers offer their customers the option of paying the repair costs themselves later, even if the damage has already been paid out," says Menno Dijcks of Independer. "Anyone who repays the compensation paid to the insurer within a certain period, usually one year, does not lose any claim-free years and can thus prevent a substantial increase in premiums."
Unfortunately, this content cannot be displayed. We do not have permission for the necessary cookies. Accept the cookies to view this content.
Change cookie settings
---
---