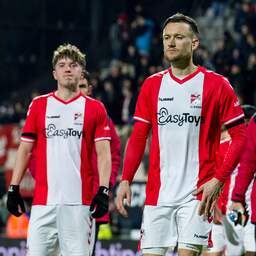 FC Emmen will play in a special pink outfit in the league match against Go Ahead Eagles on Sunday 26 February. With this, the Drenthe club wants to draw attention to testicular cancer.
FC Emmen works together with main sponsor EasyToys in the action. With the action and under the hashtag #CheckJeBallen, they hope to encourage as many men as possible to check themselves regularly.
The special pink uniforms can be purchased via the website of the shirt sponsor. The worn match uniforms will be auctioned from the first whistle of the match against Go Ahead Eagles. The entire proceeds of this auction will go to the Testicular Cancer Foundation.
"We also think it is important to make a social impact together," says CEO Eric Idema of EQOM Group, the parent company of EasyToys. "That's why on the day of love, we're breaking the news that we're joining hands to raise money for this important cause."
The match between FC Emmen and Go Ahead Eagles starts on Sunday 26 February at 2.30 pm at De Oude Meerdijk. The Drents are sixteenth in the ranking and have six points less than number thirteen Go Ahead.
Next weekend FC Emmen will visit the last player FC Groningen. The game kicks off at 6:45 p.m. on Saturday.
---
---