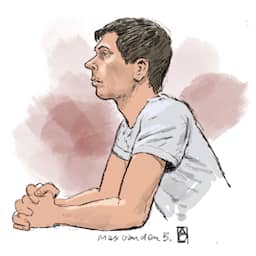 ---
13 Feb 2023 at 14:20
The court in The Hague has sentenced Max van den B. to five months in prison for threatening politician Sigrid Kaag and former top civil servant Joris Demmink. At the beginning of last year he stood with a burning torch in front of the house of the D66 leader and shouted threatening texts.
In addition to the prison sentence, the thirty-year-old Amsterdammer also receives a location and contact ban. Van den B. is less responsible, is the advice of a psychiatrist. That is why the court arrives at a slightly lower sentence than the judge.
On appeal, the Public Prosecution Service (OM) demanded a prison sentence of 174 days and six months probation. The OM also wanted a location and contact ban, so that Van den B. is not allowed to approach members of the cabinet.
On January 19, 2022, the court sentenced the torchbearer to six months in prison and several restraining orders. He has been in custody for more than six months.
Van den B. appealed and the court ruled on this on Monday. "Demonstration is allowed. What we don't want is for people to cross borders," the prosecutor said.
Torchbearer calls his actions 'awkward'
Van den B. admits that on January 5, 2022 he stood in front of Kaag's door with a burning torch and shouted slogans. Someone filmed his protest for social media. In his own words, it was not his intention to threaten Kaag.
"The intention was to walk down her street and make contact with her," says Van den B. "We left immediately when it turned out that she did not want to speak to us. If I had been allowed to do it over again, I would have taken the torch not taken to the door. That looked a bit awkward."
The prosecutor called the impact of the threat very large: it was a frightening situation for Kaag and the local residents.
But Van den B.'s lawyer said that from a legal point of view there is no threat. She says the torch is a "positive symbol of freedom and not an instrument of threat".
The lawyer therefore saw nothing in the suspended sentence that the Public Prosecution Service had demanded. She called six months in prison for a violation of a restraining order "excessively long".
Van den B. also convicted of threatening Demmink
The appeal also revolved around threatening former top civil servant Demmink in the autumn of 2021.
Van den B. then went to get a story from a club in The Hague. He wanted to confront Demmink there with suspicions of pedophilia, although no evidence of this has ever been found.
---
---