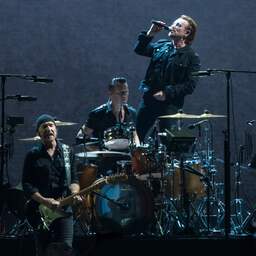 Krezip drummer Bram van den Berg will take his place behind the drums at U2 next fall. The Dutch musician assists the Irish group during a series of concerts in Las Vegas.
U2 announced the shows in the American gambling city and also announced that Van den Berg will fill in for drummer Larry Mullen Jr. He previously announced that he had to undergo surgery and would therefore be temporarily out of the running. It is not clear what he was operated on.
Because Van der Berg will be busy with U2 performances, he will temporarily not perform with Krezip. The Tilburg band writes on Instagram that it will miss the drummer "terribly". But the other band members are also proud of him. "That a legendary band like U2 – moreover one of Bram's favorite bands – has now crossed his path is unbelievable! And again, because we already know how good he is!"
U2 says they have to get used to playing without Mullen, but welcomes Van den Berg. The group calls him a "great force". It is not clear how U2 ended up with the Dutch drummer.
---
---