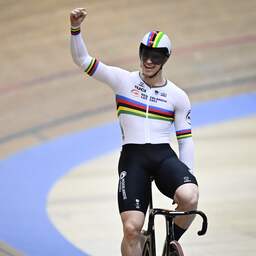 ---
Feb 12, 2023 at 5:21 PM Update: 4 hours ago
Harrie Lavreysen conquered his third title on Sunday at the European Track Cycling Championships in Grenchen, Switzerland. After victories in the sprint and team sprint, the 25-year-old from Brabant also won the keirin section. Jeffrey Hoogland took bronze.
At keirin, six riders start behind a motorcycle, and then sprint for victory in three rounds. Lavreysen initially kept a low profile, but came forward with one and a half laps to go. No one could stay in the wheel of the reigning world champion.
The Frenchman Tom Derache crossed the finish line in second place, just ahead of the Pole Patryk Rajkowski. Derache was disqualified moments later for deviating from his line. As a result, Hoogland, initially fourth, was awarded third place.
Steffie van der Peet finished fourth in the women's keirin earlier in the day. The title went to the German Lea Sophie Friedrich, who was also the best last year. Friedrich is also reigning world champion. The 23-year-old Van der Peet finished third on the keirin at the World Championships last year.
The Netherlands had no success in the madison. Maike van der Duin and Marit Raaijmakers finished eighth after two punctures, among other things. Van der Duin previously took bronze in the elimination race. Yoeri Havik and Vincent Hoppezak finished ninth among the men.
---
---