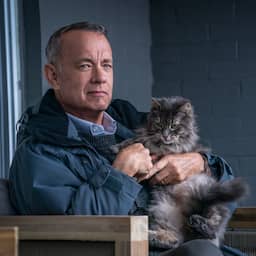 By our entertainment editors
---
Feb 12, 2023 at 10:02 Update: 8 minutes ago
A Man Called Otto is director Marc Forster's version of the original Swedish story, A Man Called Ove. Leading actor Tom Hanks joins the list of 'grumps of Hollywood' with his portrayal of the grumpy Otto. Some nuance is lost here. NU.nl lists the reviews from the Dutch newspapers.
Het Parool – no stars
"He gets fired from his job, an apartment complex is built on his street and a new family moves in opposite him. The world doesn't stand still and grumpy Otto (Tom Hanks) doesn't like change – he even has a landline."
"Although A Man Called Otto largely follows the original plot, the film strikes a different chord than its predecessor. A man called Ove made his main character complicated."
"Forster moves the story from the Swedish suburbs to the American suburbs. (…) Otto's eccentricities are all explained by the various traumatic experiences surrounding his recently deceased wife. That is a pity. Because why can't Otto just remain a grunt? ?"
Read the full review here
Fidelity – three stars
"Old grumps are loved by Hollywood actors of age. (…) Jack Nicholson, Robert De Niro and especially Clint Eastwood also take visible pleasure in their old age in playing grumbling men, bursting with prejudice. Tom Hanks joins now in this list as the evil widower who turns out to have a heart of gold."
"Otto has no defense against his new warm, remarkably direct neighbor Marisol. Mexican actress Mariana Trevino plays her with a witty energy. She is the discovery of the film."
"Otto (…) takes in an alley cat who is even allowed to sleep on his bed. And when the transgender paperboy rings the doorbell because he has been kicked out of the house by his father, he is allowed to spend the night with Otto. This is how A Man becomes Called Otto a comedy with a very showy educational value."
Read the full review here
NRC – three stars
"With A Man Called Otto (…) the penny really dropped. Perhaps because Hanks now has no lovable role, but is an angry neighbor. It is touching that his son Truman plays his younger self in the film. They have no scene together and yet it suddenly becomes about what fathers pass on to their sons."
"And now you suddenly see it: even when he takes on roles that are against his type, there is a constant in Hanks' playing. Somewhere in that strange twilight zone between actor, character and audience persona, there is always a genuine interest in his characters. (…) His mimicry, like his interpretations of play, seeks true wonder about existence."
Read the full review here
de Volkskrant – three stars
"At the beginning of the film, Hanks seems poorly cast: his grumpy, interfering character who calls everyone 'idiot' is initially neither believable nor intriguing. When Marisol, her husband and their young daughters make their entrance, Hanks' game becomes automatically more interesting."
"Apart from the chemistry between Hanks and the incomparable Treviño (…) a more mischievous and empathetic character slowly emerges with which Hanks knows how to captivate. With the emphasis on slow: scenes that last too long (usually with a stray cat) and so getting the pace out of the movie can't be counted on two hands."
Read the full review here
Unfortunately, this content cannot be displayed. We do not have permission for the necessary cookies. Accept the cookies to view this content.
Change cookie settings
---
---