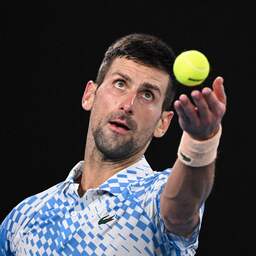 ---
11 Feb 2023 at 09:32
Novak Djokovic has applied to enter the United States next month to play the Masters tournaments in Indian Wells and Miami. The winner of the last edition of the Australian Open has not been vaccinated and is therefore not allowed to enter the country in principle.
"Novak has to get special permission because the US still denies entry to unvaccinated people. That's just unbelievable, since the whole world is open and sporting events welcome both vaccinated and unvaccinated athletes," his brother Djordje Djokovic told the Serbian news agency Tanjug.
"Novak has submitted all required documentation and a request and the directors of Indian Wells and Miami have publicly said that Novak is needed at those tournaments and they want him to come. There are only a few days left before a decision is made. and what remains for us is to hope for a positive outcome."
Djokovic said last month that he would seriously consider a rejection of his request. Foreign travelers entering the United States until April 10 must be fully vaccinated against COVID-19.
The prestigious Indian Wells tournament is scheduled from March 6 to 19. The Miami event will follow from March 20 through April 2. Djokovic was the best in Indian Wells five times and won the Miami tournament six times.
35-year-old Djokovic is still undefeated this year. In the run-up to his tenth title at the Australian Open, he was also the best in Adelaide. With his tenth overall victory in Melbourne, he tied with Rafael Nadal, who held the record with 22 Grand Slam titles.
---
---