---
Feb 11, 2023 at 3:46 PMUpdate: 20 minutes ago
Suzanne Schulting won gold (mixed relay) and silver (1,500 meters) at the short track World Cup final in Dordrecht on Saturday. Xandra Velzeboer finished third in the 1,000 meters in front of the home crowd.
In the final of the 1,500 meters, the Belgian Hanne Desmet outwitted the competition with a beautiful action in the final phase. Canadian Courtney Sarault seemed to be heading for victory, but even missed out on the podium: Schulting finished second in the turmoil, just ahead of South Korean Shim Suk-hee.
"Unfortunately, it cannot always be gold in short track. This is very sour," Schulting, who was so dominant this season, said in conversation with NOS afterwards. "No matter how good you feel, you also have to deal with opponents."
An hour later there was gold for Schulting. The three-time Olympic champion was the best in the mixed relay together with Xandra Velzeboer, Itzhak de Laat and Jens van 't Wout. It was the first Dutch victory in Dordrecht and the first Dutch victory in the mixed relay this World Cup season.
In the run-up to the games in Dordrecht, Schulting expressed her doubts about the approach of Niels Kerstholt, Jeroen Otter's successor as national coach. This despite the successful season that Schulting is working on. In addition to her successes in the World Cup circuit – she won eight World Cup competitions, a personal record – she won no fewer than four European titles.
Schulting is already certain of the final victory in the overall World Cup classification and the final victory in the 1,000 meters.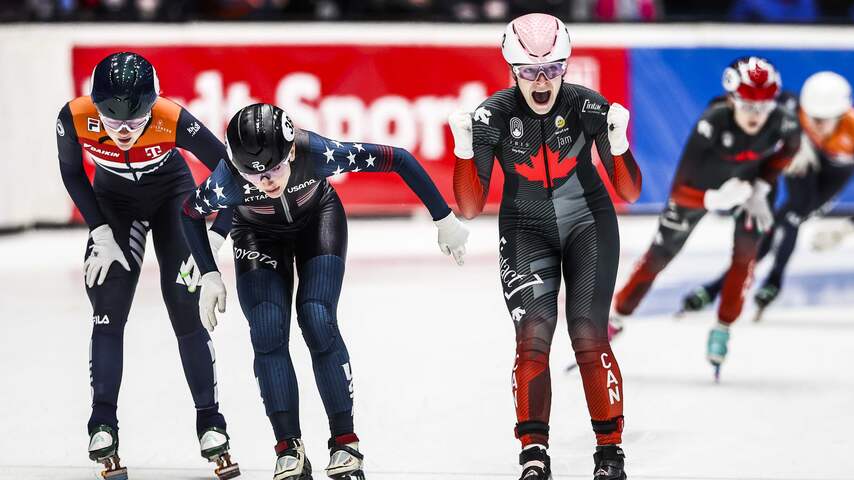 Xandra Velzeboer (left) finished third in the 1,000 meters. Photo: ANP
Xandra Velzeboer beaten at 1,000 meters
In the final battle of the 1,000 meters, Velzeboer was unable to parry an attack by Kim Boutin in the final phase. The Canadian then trumped the American Kristen Santos-Griswold in the battle for gold. Velzeboer had to settle for bronze.
Selma Poutsma was unable to participate in the violence and decided the final as fifth and last. In the B group, the triumph went to Michelle Velzeboer.
The World Cup final in Dordrecht lasts until Sunday. It is the last major showdown before the World Cup, which will be held in Seoul, South Korea, in a month.
---
---