---
Feb 11, 2023 at 4:18 PMUpdate: 5 minutes ago
Patrick Roest was beaten on the 5,000 meters for the first time this World Cup season on Saturday. De Lekkerkerker lost in a direct duel to Davide Ghiotto, who transported the gold. Hein Otterspeer just missed the medal in the 500 meters.
Roest and Ghiotto turned it into a great skating battle in Polish Tomaszów Mazowiecki. The two were even allowed to think about the track record of Nils van der Poel (6.15.56), but had to forget that time in the final laps.
The 27-year-old Roest put 6.18.27 on the board, while Ghiotto clocked 6.17.45. The Italian is the first to beat the Dutchman at his favorite distance this World Cup season. Sander Eitrem, the Norwegian who challenged Roest at the European Allround Championships last month, finished third with 6.18.45.
The rare loss is a setback for Roest, who will also meet Ghiotto at the World Championship distances at the beginning of March. In the run-up to the most important tournament of the season, Roest still has a chance to take revenge. That is next week at the World Cup final in Poland.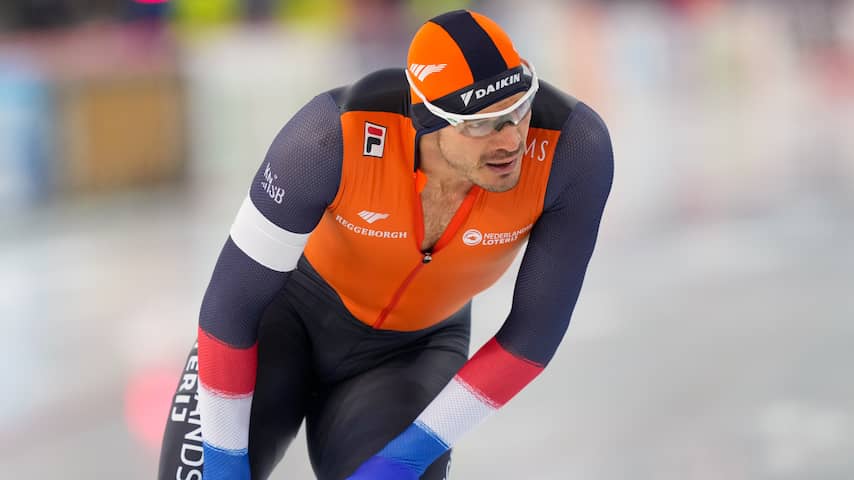 Hein Otterspeer just missed a medal. Photo: Getty Images
Otterspeer is a few thousandths short
Earlier in the day, Otterspeer set a sharp time in the first stage in the 500 meters (35.03) and seemed to be on his way to a medal for a long time. Only in the penultimate stage did Wataru Morishige go under with 34.78. The Japanese raced against Janno Botman, who finished eighth with 35.25.
In the final stage, the Canadian Laurent Dubreuil and the Japanese Murakami also dived under the time of the 34-year-old Otterspeer. Dubreuil was second with 34.87 and Murakami, like Otterspeer, scored 35.03, but was a few thousandths faster than the Dutchman.
Merijn Scheperkamp, ​​so far the only Dutchman who managed to win a medal in the 500 meters this World Cup season, is not participating in Poland. The winner of the bronze medal at the World Cup in Thialf, like a number of his teammates, prefers training.
---
---