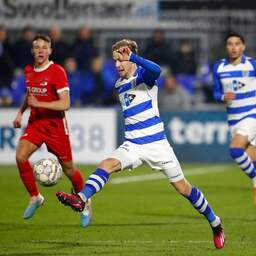 ---
Feb 11, 2023 at 11:49 Update: an hour ago
The players of PEC Zwolle threatened to leave the field on Friday because of racist statements by some of their own fans in the home game against Jong AZ. In the end, referee Laurens Gerrets decided after consultation with the players to let play continue.
After 35 minutes, the speaker in the MAC3PARK stadium called on the supporters to stop with racist chants. For a large part of the thirteen thousand fans, this came as a surprise, because the chants could not be heard everywhere in the stadium. Referee Gerrets and the players had not heard anything on the field either.
According to PEC Zwolle, the racist statements only came from "a few supporters" and were therefore not heard everywhere. Security staff from the club did catch the sounds and switched on the stadium speaker.
"Davy van den Berg and I heard that call and then we said that we would leave the field immediately if we heard the racist statements," PEC player Dean Huiberts told RTV Oost afterwards. "Because this is not possible, we should not approve it."
Referee Gerrets then walked to the side to ask the safety coordinator what was going on. After consultation with the players, the referee decided to resume the game. PEC won the game 4-1 and therefore took a big step towards promotion to the Eredivisie. Pursuer Heracles Almelo went down 3-1 at VVV-Venlo.
PEC Zwolle will be looking for the perpetrators in the near future. "This kind of behavior has absolutely no place in a stadium and does not fit in any way with our club and how our supporters always support the club fantastically. PEC Zwolle is therefore doing everything it can to trace those who are to blame."
Unfortunately, this content cannot be displayed. We do not have permission for the necessary cookies. Accept the cookies to view this content.
Change cookie settings
KNVB is making more work of racism
Since racist abuse by FC Den Bosch fans towards Excelsior player Ahmed Mendes Moreira in 2019, the government, the KNVB and the clubs have made more efforts to combat racism in football stadiums.
For example, FC Dordrecht-MVV Maastricht was shut down last year because of racist chants from fans of MVV. A few months later, four supporters of the Limburg club were banned from the stadium for twenty years.
FC Utrecht imposed four more stadium bans this season after fans made monkey noises in August in the direction of Ajax player Brian Brobbey. Then the match was not interrupted, which came under criticism from the KNVB.
The Mijnals committee, which deals with racism, discrimination and inclusiveness in football, told NU.nl at the time that the KNVB should take harder action against racism. According to chairman Humberto Tan, there should be consequences for the licenses of clubs if they do not follow the guidelines properly.
---
---