---
Feb 10, 2023 at 6:27 PMUpdate: 2 minutes ago
Marijke Groenewoud won bronze in the 3 kilometers at the World Cup competition in Polish Tomaszów Mazowiecki on Friday. The Norwegian Ragne Wiklund won and also secured the overall victory in the World Cup classification over 3,000 and 5,000 meters, partly because competitor Irene Schouten was absent.
The 22-year-old Wiklund drove a slightly better time in Arena Lodowa than the thirteen-year-old Martina Sáblíková from the Czech Republic. The difference was only eight hundredths (4:05.96 to 4:06.04). Wiklund recorded her third World Cup victory this season.
Groenewoud (4:07.18) was more than a second slower than Wiklund and finished third. Joy Beune (4.07.68) ended up just off the podium. Sanne In 't Hof finished sixth, behind Canadian Isabelle Weidemann.
Olympic champion Schouten was absent from the rink, as was reigning world champion Antoinette Rijpma-De Jong. Both skaters skip this World Cup to prepare for the World Championship distances that will be held in Heerenveen from 2 to 5 March.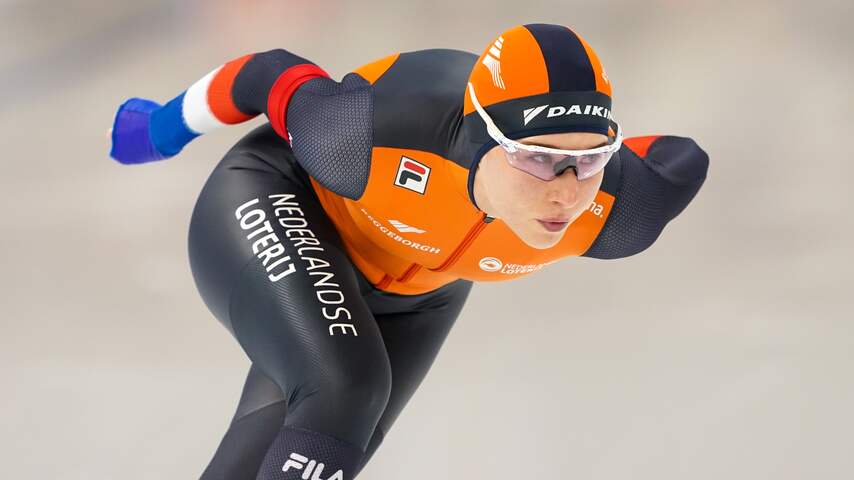 Michelle de Jong was the best Dutch in the 500 meters. Photo: Getty Images
Dutch spinners disappoint
The Dutch sprinters played a supporting role in the 500 meters. Michelle de Jong was the best compatriot with the sixth fastest time. She skated in the fifth and last normal World Cup of the season with a time of 38.23.
Femke Kok, Marit Fledderus and Dione Voskamp finished just behind De Jong. Kok lost a lot of speed in her ride with teammate Fledderus with a miss at the junction.
Min-Sun Kim is assured of the overall victory in the World Cup classification. The 23-year-old South Korean was the only one to ride under 38 seconds (37.90) and recorded her fifth win in a row. Austrian Vanessa Herzog and American Kimi Goetz completed the podium.
Many skaters are absent from Tomaszów Mazowiecki this weekend. Almost the entire Jumbo-Visma team prefers training, including Jutta Leerdam. She was on the podium three times in the 500 meters this World Cup season.
---
---