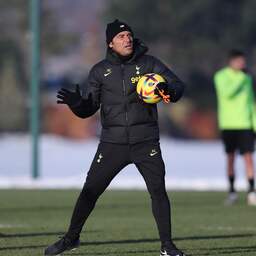 Antonio Conte led Tottenham Hotspur's training on Thursday. The 53-year-old Italian had to have his gallbladder removed last week, but has now recovered sufficiently and may be on the bench again on Saturday in the game against Leicester City.
Tottenham reported last week that Conte had become unwell and that his gallbladder was removed after medical examination. The club then left in the middle when the trainer would return.
Conte missed a historic moment for Tottenham due to his surgery. In last Sunday's win against Manchester City, Harry Kane scored his 267th goal for the 'Spurs', making him the club's all-time top goalscorer.
Next weekend, the Londoners will visit Leicester City, which is fighting against relegation with fourteenth place. Tottenham are firmly in fifth place in the Premier League. The 'Spurs' are also still participating in the Champions League. On February 14, they will meet AC Milan in the eighth finals.
Stand Premier League
1. Arsenal 20-50 (+28)
2. Manchester City 21-45 (+32)
3. Manchester United 22-43 (+8)
4. Newcastle United 21-40 (+22)
5. Tottenham Hotspur 22-39 (+10)
6. Brighton 20-34 (+11)
---
---