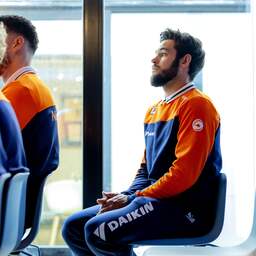 ---
Feb 09, 2023 at 2:05 PMUpdate: 2 minutes ago
Sjinkie Knegt received an official warning from the KNSB on Thursday. The skating association is not happy with some spicy statements that the experienced short tracker made on Wednesday during a press day.
In conversation with the AD, Knegt expressed his dissatisfaction with the state of affairs within the short track selection. The 33-year-old Fries lashed out at national coach Niels Kerstholt and his assistant Annie Sarrat.
"When the season is over, I hope we will soon be rid of the mess," said de Knegt. Kerstholt succeeds success coach Jeroen Otter, who is on a sabbatical. Suzanne Schulting was also (not for the first time) critical of Kerstholt on Wednesday, although she did not receive a warning.
"Now I just do my own thing outside of the schedule," Knegt continued. "I don't need them on a technical level. If it continues like this, the entire Dutch short track will be at a loss next year."
According to the KNSB, Knegt has "violated the norms and values ​​with regard to sporting and decent behavior". 'De Schicht from Bantega' apologized in a conversation and can participate in the World Cup final in Dordrecht next weekend.
Knegt is waiting for an interview next week
However, the stocking is not over yet. The KNSB reports that after the weekend Knegt will have a discussion about his role in the selection with technical director Remy de Wit and discipline manager Wilf O'Reilly.
It is not the first time that Knegt has spoken out in the media about something he does not like. Despite this, he was already furious about the organization of the NK short track, which was dramatically lost to him.
The World Cup final in Dordrecht is scheduled from Friday to Sunday and is the last major showdown before the World Cup, which will be held in Seoul, South Korea, in a month's time.
---
---