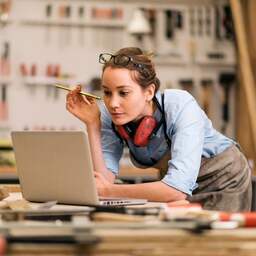 ---
07 Feb 2023 at 21:36
In the Netherlands, women more often work part-time than men. As a result, they are less often financially independent. How did this relationship become so lopsided? And what does it take to get her to work more and he to care more?
If men and women worked the same amount, society would gain 10.8 billion euros gross, says Joost Witteman, senior researcher at SEO Economic Research. This research agency conducted research last year into the economic effect of men and women working equally. This is based on figures from Statistics Netherlands, TNO and SCP.
Now the balance is still far to find. On average, women work fewer paid hours than men, namely 20.7 hours. This while men work an average of 33.0 hours per week. On the other hand, men spend less time on housework or taking care of the children. For men this is an average of 17.4 hours per week and for women 27.5 hours per week.
If these figures were to be equalized (so that women do more paid work and men do more unpaid work), it would result in economic growth of more than 10 billion euros. It would also make women more financially independent. "That's quite a lot of money," says Witteman.
---
Let male CEOs set a good example by showing that a top position can also be done part-time.
Marlies Brenters, writer of De FemDeal
---
The end of the pay gap?
One of the consequences of the unequal distribution of paid work is that women on average earn less than men for the same work, the pay gap. Equalizing working hours could also mean the end of the pay gap, says Witteman. "If men and women work the same number of hours, they are very likely to receive more equal pay."
Problem not easy to solve
The imbalance in part-time working is too big and a complex problem to solve in one go, says Marlies Brenters, organizational development expert and author of the book De FemDeal. Several factors play a role, she says. One of them is Dutch culture. "We are a very conservative country. The man is the breadwinner. A woman is allowed to work, but must first of all be caring and put the children first."
"It is an absurd idea that this stereotype still exists in the Netherlands and we attach so much value to it. Children of working mothers can end up just as well as those of non-working mothers. As long as the children get enough attention at home. And that is fine, with a mother who works full time."
Better organization of childcare in the Netherlands could help. "The childcare is now very expensive, also compared to other countries. Working less is often cheaper than paying for extra childcare. And in practice it is often the woman who then works less to take care of the children."
In addition, there is often no room at overcrowded childcare. "If childcare is affordable and available, women will automatically work more hours."
'Men also want to take care of the children more'
A more flexible working day can also contribute to a more equal distribution between men and women, says Brenters. "A working day does not have to last from 9 a.m. to 5 p.m. as standard. The more flexible the employer is, the more flexible both parents can combine their agenda with family life. Due to corona, this has already changed at many companies, but it remains an important point."
The work culture of many organizations does not always have a positive attitude towards flexible working. "Many companies still have a masculine work culture. This means, for example, that employees are expected to put their work first. If you don't work overtime, you can also forget about getting a promotion. This makes it difficult for employees with a family to promotion."
This is not just a problem for men. "In this culture, they are expected to always work full-time, while they also have to and want to take care of the children. Let male CEOs set a good example by showing that a top position can also be done part-time."
Unfortunately, this content cannot be displayed. We do not have permission for the necessary cookies. Accept the cookies to view this content.
Change cookie settings
---
---