---
Feb 08, 2023 at 06:52Update: 23 minutes ago
Heerenveen striker Sydney van Hooijdonk was overjoyed after he knocked NAC Breda out of the cup tournament on Tuesday (1-2). Thanks to his two goals, he also won a bet from his father Pierre, who is a commissioner at NAC.
"He didn't believe in it and said NAC would win 100 percent," said Sydney van Hooijdonk in a joint interview with Pierre after the cup match. "We have proven the opposite. With two goals it couldn't be much better for me."
Pierre stood in front of ESPN's camera with mixed feelings. The former international has been technical commissioner at the club from the Kitchen Champion Division since November, where he caused a furore as a player from 1991 to 1995 and from 2005 to 2006.
"I am disappointed with the result, but as a father I am beaming with pride. Of course I hoped that my son would go great. The sister and mother were also for Heerenveen. I feel a bit different because I am now with NAC. I said in advance that NAC would win 4-3. He was allowed to make three. The latter seemed to happen, but those four were no longer in it. "
The leading role for Sydney van Hooijdonk was called for Heerenveen, as NAC had brutally taken the lead through Tom Boere after fifteen minutes of play. Just before half-time, Van Hooijdonk equalized the score with a ticker, after which he scored the winning goal in the 53rd minute.
After the 1-1, Van Hooijdonk did not cheer out loud against the club for which he played for five years. He did kiss his hand to his family in the stands. After the 1-2, he celebrated the goal with the traveling fans. "I had been looking forward to this evening since the draw. It turned out to be a wonderful evening."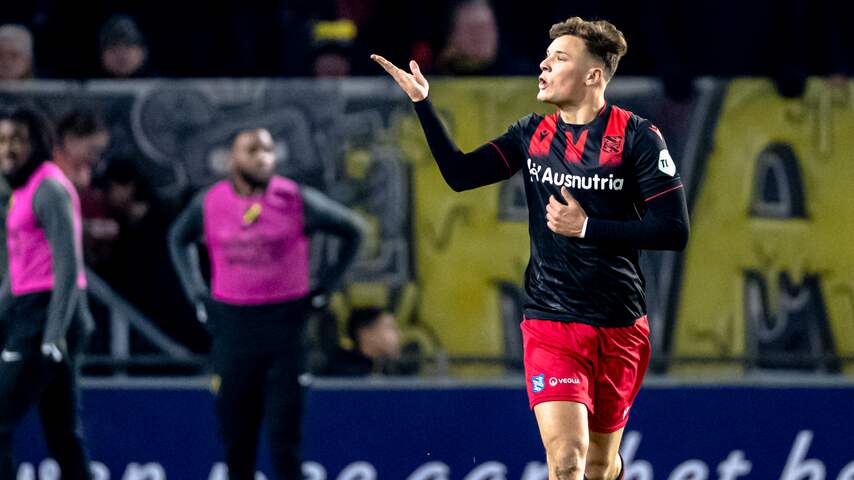 Sydney van Hooijdonk handed out a hand kiss after his equalizer against NAC Breda. Photo: Pro Shots
"Pay only the main course"
Because of the victory, Pierre will soon take his son, daughter and wife out for dinner to an expensive restaurant in Rotterdam. The winner of the bet would pay for the dinner.
"I had bet high because I was convinced that NAC would win. I was too euphoric," said Pierre, who had come up with the bet. He then turned to Sydney. "I only pay for the main course, don't I?"
Father and son couldn't talk about the memorable evening for long. Sydney traveled back to Heerenveen by bus that same evening, because he had to be on the training field in Friesland the next morning.
"I'm going to try to sleep, but it will be difficult. I already got that feeling at halftime. It's all been so hectic. We'll probably call each other soon. The talking has only just begun."
---
---