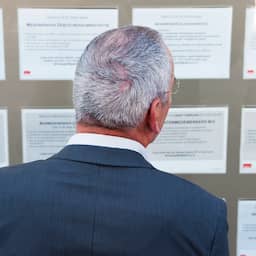 ---
08 Feb 2023 at 05:02
Companies are having great difficulty finding staff and there are more than a million people on the sidelines. How can this mismatch on the Dutch labor market be explained?
Employers are at a loss and even adjust the terms of employment and job requirements to find new people. Labor migrants are mainly deployed in other sectors, such as agriculture and horticulture, distribution centers and delivery.
Criticism is increasingly heard from society: why is there no appeal to the large group of people standing on the sidelines? They could also fill gaps, is the thought.
The so-called 'untapped labor potential' now consists of 1.2 million people, according to figures from Statistics Netherlands. This concerns, for example, people who are officially unemployed: they have no paid work, but are actively looking and are immediately available. There are currently 359,000, about 3.6 percent of the working population. That is the lowest level since 2003.
The group also consists of people who are available but do not apply for a job and vice versa. "Then it mainly concerns young people and informal carers," says labor market expert Rob Witjes of the UWV.
'Misconception that that group prefers to hang out on the couch'
And then there are the 'underemployed part-timers'. "These part-timers want to work more, but have different wishes than their employers. That leads to many discussions," says Witjes. For example, a part-timer wants to work more on Mondays, while the employer needs people on Saturdays and Sundays. "Then such a company opts for an extra flex worker for the weekend."
The unused part-timers make up about 40 percent of the 1.2 million people who are on the sidelines. That is more than 400,000 people, including many young people.
It is therefore not so easy to place the long-term unemployed one-on-one on open vacancies. "But it is a misconception that it concerns a group of people who prefer to sit on the couch at home," says Witjes.
"They are not pathetic either. These are people who sometimes find it very difficult to get a job, for example because they have worked somewhere for twenty years and end up on the street after a reorganization. They often have done little training, which means that certain skills are missing."
Get notified about job market newsStay up to date with notifications
Many companies are now holding open houses
Then there are also people who are not looking for work and are not available. Think of family fathers or mothers, people on welfare and employees who change jobs and have a short holiday in the meantime.
Companies are now doing all kinds of things to fill their vacancies. For example, they practice open hiring, where someone gets to work without an interview, resume or government interference. Witjes: "But there is also a task here for job seekers. They must adopt a more active attitude and ask much more clearly what the job entails. And provide good guidance."
---
---