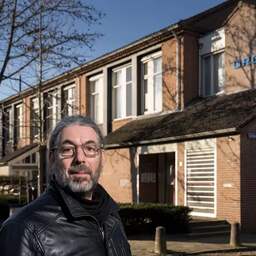 Orthen is known in Den Bosch as a neat neighborhood, but the people of Orthen themselves see their neighborhood slipping away. 'The Ordune residential complex is a magnet that attracts crime. And we're tired of that.'
This article is from the Brabants Dagblad. Every day a selection of the best articles from the newspapers and magazines appears on NU.nl. You can read more about that here.
They are completely fed up, the residents of Orthen. "Orthen residents can take a lot. But now it's done, we want our safe neighborhood back," says Wim van Hassel (63), board member of the Fort Orthen neighborhood committee. He points to the Ordune residential complex on Ketsheuvel, which is what it's all about. "Ordune is a magnet that attracts crime. It's like a dovecote, people live there for a while and then leave again. And the people here in Orthen feel unsafe."
Ordune is the old office building of housing corporation Zayaz, which has been converted into 57 small residential studios of 20 to 46 square meters. Rental price: 350 to 400 euros per month. Since 2017, mainly students, status holders and emergency seekers, such as people who have recently been divorced, live here. "We are not bothered by the status holders. It concerns a small group of residents who really bother us," continues Van Hassel.
Drug nuisance
Hanny van Hoorn, who has a view of Ordune from her home, adds: "We suffer from crime, drug nuisance, theft and vandalism. And from confused people who ring the doorbell of people in the neighborhood. raided here. And we can't even blame the residents of Ordune, they all live there in far too small houses. Far too close together. How intense is it for those people who live there? tough for us."
Van Hoorn says he is mainly hindered by drug dealers. "Then they sit here in cars waiting for people to come and get that stuff. And then they stand in front of our balcony with a roaring engine."
The neighborhood has been complaining to the municipality, Zayaz and the police for years. "But nothing keeps happening," Van Hassel complains. And that is why a group of people from Orthen approached politicians at their wits' end this week. The SP previously asked critical questions about the quality of life in Orthen to the council of B and W.
'Do not renew permit'
Van Hassel: "The permit for Ordune expires at the end of 2026. And we don't want that permit to be extended. Moreover, we want something to finally happen in our neighbourhood."
A spokesperson for Zayaz acknowledges that there are problems. "That's why we're temporarily calling in security. But Zayaz can't solve it alone. That's why we have a management group with people from Zayaz, the municipality, welfare organization Farent and local residents, among others. We make agreements about the quality of life. residents are asked to continue to report nuisance and incidents. Together with those involved, we are working on a neighborhood approach to improve the quality of life in the entire neighborhood."
A similar answer comes from the municipality. And the police do not want to say anything about the number of offenses or crimes in and around Ordune 'because of privacy'. A spokesman does point to the number of crimes throughout Orthen; 68 in 2022, compared to 29 among the 'neighbours' in Orthen-Links.
'hearty people'
Van Hassel and other residents of Orthen hope that it will not stop at words. "We are a hearty people here. Orthen is older than Den Bosch. Over the centuries we have been completely wiped out several times, but we keep coming back. And we are decent people, try to solve it neatly. But we expect also something from the municipality, the housing corporation and the other organizations that are responsible here."
Annual research by the municipality into the quality of life in Bossche neighborhoods also shows that Orthen is deteriorating in terms of quality of life. The neighborhood with more than 1500 inhabitants gives itself a 6.7 as a report mark in the field of safety in the neighborhood. That is 'only' two tenths lower than the average in the municipality. Remarkably enough, Orthen scores an 8.2 in the safety survey in the field of 'pleasant living'.
Van Hassel, born and raised in Orthen, understands that score: "It is pleasant to stay in Orthen. A neighborhood with a lot of cohesion and social control. But it should remain that way."
---
---