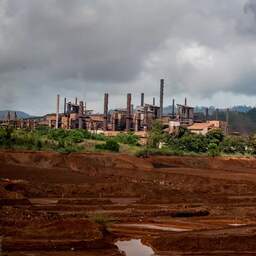 Indonesia is forcing manufacturers of electric cars to invest billions of euros in factories in that country. In return, they get access to the world's largest nickel reserve.
This article is from the Volkskrant. Every day a selection of the best articles from the newspapers and magazines appears on NU.nl. You can read more about that here.
The Indonesian government is about to land even more new factories for electric cars and their batteries. Negotiations with the Chinese manufacturer BYD and the American Tesla, the number one and two in the world, are in their final phase, according to Indonesia. President Joko Widodo's ambition to become a dominant player in the global market for electric vehicles in the coming years will then come a lot closer.
The list of signed contracts is now impressive: the German chemical company Basf and the French mining company Eramet recently promised to invest 2.4 billion euros in a collaboration with an Indonesian state-owned company to process nickel, an important component of the necessary lithium ion batteries. The Korean Hyundai was the first to open a hypermodern factory outside the Indonesian capital Jakarta last year for their new electric model Ioniq 5. An investment of 1.44 billion euros.
Not much later, the Chinese battery manufacturer CATL signed an agreement of 5.6 billion euros for the construction of a mine-to-assembly facility in the north of the Moluccas. Japan's Mitsubishi promised to expand in Indonesia and Toyota is opening a new factory in Sulawesi. Tesla previously signed 4.7 billion euros worth of nickel contracts.
Quarter of world nickel supply
Widodo's secret weapon: his country has nearly a quarter of the world's nickel supply, along with generous amounts of copper, bauxite and tin. Only the lithium has to come from Australia. Since the president banned the export of raw nickel in 2019, followed later by an export ban on other metals, manufacturers have had little choice but to seek cooperation with Indonesian state-owned companies. The European Union immediately lodged a complaint with the World Trade Organization and was proved right.
But for Widodo, the ban is essential to his strategy: he wants his country to earn more from raw materials. By, among other things, forcing foreign companies to add value to the raw material in Indonesia. An appeal against the WHO ruling is still pending. "We want to be a developed country, we want to create jobs," Widodo told investors in December. "If we fear being dragged before a judge, take a step back, we will never become a developed country." In exchange for a gigafactory in Indonesia, Widodo promised Tesla CEO Elon Musk its own nickel concession.
In addition, the Indonesian government is also trying to convince its own population, a huge market of 275 million consumers, to switch to electric. That part of the strategy is less energetic. An electric car never creeps past in the endless traffic jams of Jakarta; the cute e-cars from the Chinese manufacturer Wuling do attract a lot of attention in many shopping centres. An impulse purchase, for those who already have everything.
Air quality
According to the national association of the automotive industry, Gaikindo, only 15,000 of the country's 152 million cars are electric. The same is true for scooters. The fact that electric cars pollute less is not an argument for many Indonesians. It is true that Jakarta's air quality rivals that of New Dehli as the worst in the world, but Indonesian consumers mainly look at price and driving range.
The government is aiming for 2 million electric cars and 13 million electric scooters on the street before 2030. Among other things, by obliging all state-owned companies and government services to switch to electric before 2025. To convince consumers, experts argue, the recent abolition of VAT and luxury tax on electric vehicles falls short.
An Ioniq 5 costs 46,000 euros in Indonesia, while the luxury Toyota Avanza with petrol engine costs only 18,000 euros. The government is considering making 4900 and 432 euros subsidy available this year for the purchase of an electric car or scooter. That makes the electric scooter about as expensive as a petrol scooter. The decision on this subsidy will be made later this month.
---
---