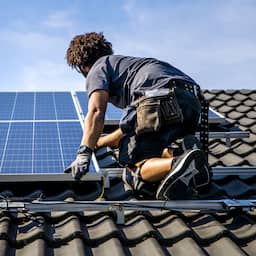 The phasing out of the most important subsidy scheme for solar panels on homes is in jeopardy, because PvdA and GroenLinks believe that the cabinet takes insufficient account of people in social rental homes. Is it true that they will be affected by the abolition of the so-called net metering arrangement, and what can replace it?
The net metering scheme is now almost twenty years old and can be regarded as one of the most popular subsidies in the Netherlands. For years, the scheme has made it attractive for homeowners to install solar panels on their roofs. One in three owner-occupied homes now generates solar energy.
The success is so great that, according to the cabinet, the subsidy is no longer necessary. Solar panels nowadays pay for themselves much faster, even without the benefit on the energy bill that the net metering arrangement guarantees. That is why the government wants to phase out the subsidy from 2025. The House of Representatives will vote on that plan on Tuesday.
Only one in six rental homes has solar panels
But (social) rental homes have lagged behind in terms of sustainability: only one in six has solar panels. The net metering scheme is particularly interesting for homeowners who invest in solar panels and subsequently expect a lower energy bill. In the case of rental properties, the benefit of the net metering scheme is fully credited to the tenant's energy bill, while the purchase and installation costs are fully borne by the landlord.
In order to make their rental properties more sustainable, housing associations can request a monthly fee from tenants if they receive solar panels. This fee is 'earned back' by the tenant through the lower energy bill. In this way, people in rental properties still benefit from the net metering scheme in a roundabout way.
But if that regulation disappears, the energy bill will be slightly higher again. This makes it less attractive to install solar panels on rental properties, housing associations warn. They can ask tenants for a lower fee and therefore take a lot longer to recoup their investment in the panels.
'Solar panels unprofitable for corporations'
That warning is not new. More than two years ago, the government already commissioned an investigation into this issue. A tour of housing associations showed that there would be "a higher threshold" for them to invest.
Another study commissioned by Aedes, the umbrella organization of housing associations, came to the conclusion that from 2024 it would no longer be worthwhile to invest in solar panels on social rental homes. But the cabinet did not come up with measures to do anything about it.
According to climate minister Rob Jetten, phasing out the net metering scheme is actually good for people with lower incomes, because they now contribute to the subsidy for often wealthier households that have solar panels through their energy bill. With current energy prices, people without solar panels pay "a few tens extra per month" for their electricity, according to ACM regulator. That benefit goes to people with solar panels.
Get notified of new postsStay up to date with notifications
'Game' during election time?
Thanks to PvdA and GroenLinks, the rent issue is suddenly central to the debate on the net metering scheme. The parties do not want to support the phasing out of the subsidy, unless the cabinet comes up with measures to help make the social rented sector more sustainable. In the House of Representatives, the cabinet does not need the left-wing parties. In the Senate, the cabinet does need opposition parties to form a majority and to abolish the net metering scheme.
Jetten says he will talk to housing corporations about their concerns. Earlier, the cabinet made agreements with the corporations to accelerate the sustainability of poorly insulated homes. Now Jetten, together with fellow minister Hugo de Jonge of Housing and Spatial Planning (VRO), also wants to look at ways to get more solar panels on housing association homes.
GroenLinks and PvdA want to wait for those talks. To the chagrin of the coalition parties, they themselves have not come up with proposals to get more solar panels on social rental homes. "I actually think that this is just part of the homework of this cabinet," said PvdA Member of Parliament Joris Thijssen. That "must learn to come up with climate policy that is sufficiently social".
CDA Member of Parliament Henri Bontenbal pointed out that PvdA and GroenLinks themselves stated in their election program for the 2021 parliamentary elections that the net metering scheme should be phased out. According to him, they no longer dare to abolish the popular subsidy. "Elections are coming up and you find it difficult to explain to your supporters."
Corporations want a different kind of subsidy
If the net metering scheme does indeed disappear, Aedes wants the cabinet to offer a different form of subsidy to housing associations that install solar panels on tenants' roofs. There is already an investment subsidy for companies, associations of owners and corporations that equip larger buildings with a solar roof.
That investment subsidy, which covers about 20 percent of the purchase costs of solar panels, must also be opened up to single-family homes owned by corporations, says Aedes spokesman Ernst Koelman. "In practice, this subsidy directly benefits tenants, because corporations can use it to keep the compensation for panels in the service costs for tenants as low as possible."
Without any form of subsidy, according to Koelman, it will be more difficult for housing associations to convince tenants to agree to the installation of solar panels. It becomes less clear to them whether it pays off. "Due to the current discussion about the net metering arrangement, we already see that tenants are more likely to have doubts," says Koelman. "That's why the investment subsidy is so important."
It is not yet clear whether Jetten sees potential in Aedes' plan. An investment subsidy is "part of the talks that the minister for VRO and I will be having with the housing corporations in the coming weeks," he said in the House of Representatives.
---
---