---
Feb 07, 2023 at 01:04Update: 14 minutes ago
The death toll from the earthquakes in Turkey and Syria has risen to more than 3,800 people in recent hours. The number of deaths is expected to continue to rise.
Despite the bad weather conditions, rescuers are working hard to find victims and to get them under the rubble.
On Twitter are different images from the busy roads around the earthquake zones in Turkey. The people who want to get away from the earthquake zone in the Nurdagi district use the same roads as the aid organizations.
This has caused a major traffic jam. Several people are trapped in their cars and unable to use their phones.
Dutch rescue workers have landed in Adana
Meanwhile, the search and rescue continues. The Dutch rescue team USAR has now landed in the Turkish city of Adana with 65 people and eight rescue dogs.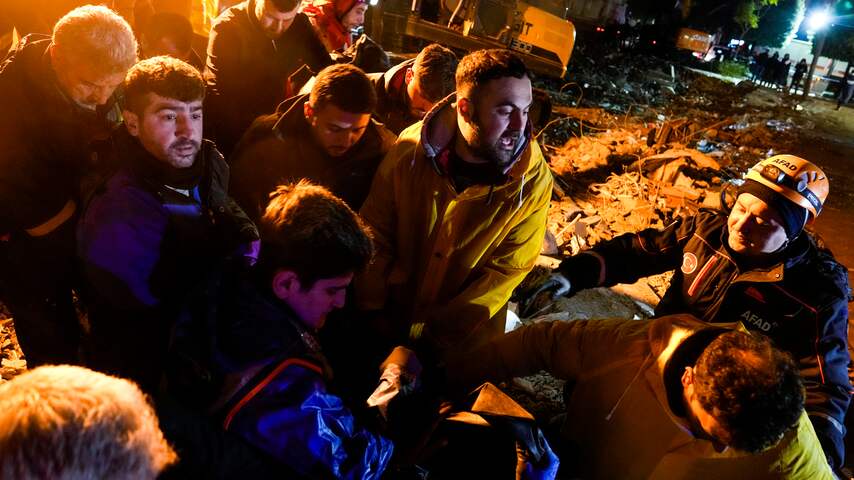 Rescuers pull a victim from the rubble in the Turkish city of Adana. Photo: ANP
A cargo plane with equipment weighing 15 tons is still on its way. These tools should help rescuers search for people under the rubble.
The Dutch rescue team will probably be deployed in the earthquake areas where rescue workers from Russia, Israel, France, Spain and Italy are also working.
More than 700,000 euros received via Red Cross giro
More than 700,000 euros have now been received on Giro 7244 for the victims of the earthquakes in Turkey and Syria, the Red Cross reports. The aid organization opened Giro 7244 earlier Monday.
The Red Cross helps rescue people from under the rubble and provides first aid, supplies ambulances with people, and transports victims to hospital. The organization also shelters people who have lost their homes with blankets, tents, catering and mobile kitchens.
In addition to the Red Cross, dozens of Turkish-Dutch organizations met on Monday evening to coordinate an aid campaign. They want to contact the Red Cross, among others, to ask how they can help victims even more.
"The situation is extra difficult because it is currently cold in the area. There is snow in many places and there are heavy storms. This makes it difficult to get relief teams and supplies on location," says a spokesman for the Red Cross.
Earthquake comes on top of a war in Syria
On the other side of the border, northwestern Syria has been hit hard by the quake. The disaster comes on top of a war that has been tearing the country apart for more than a decade. As a result, less information about the death tolls is available from Syria.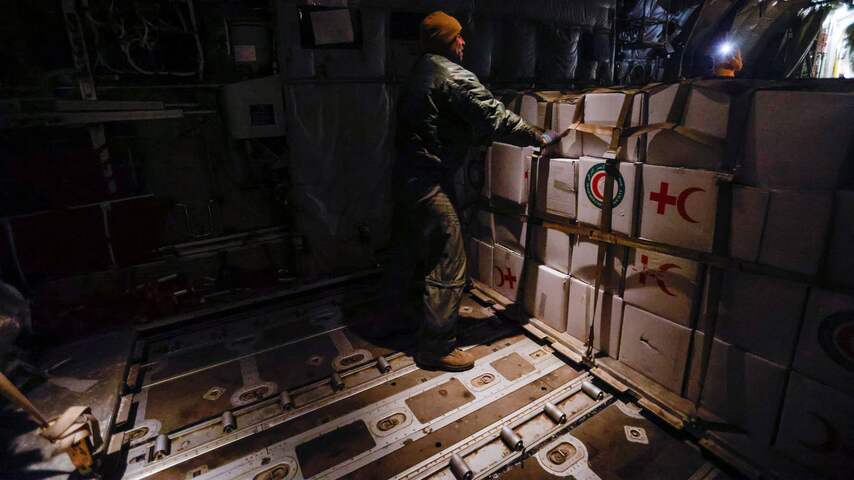 The Iraqi Red Cross sends goods to the disaster areas in Syria. Photo: ANP
The Syrian Observatory for Human Rights has announced via Twitter that the death toll in Syria has risen to 1,440 people. More than 2,000 people were reportedly injured. A Kurdish aid organization is said to be present in the Syrian city of Hasakah to receive victims of the earthquakes.
---
---