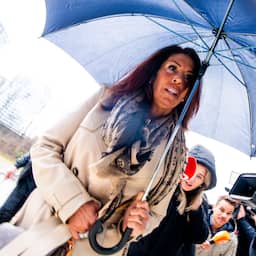 By our entertainment editors
---
Feb 07, 2023 at 2:55 PMUpdate: 4 minutes ago
Rachel Hazes said on Instagram on Tuesday that juice vlogger Yvonne Coldeweijer can call her a 'cremated croquette'. Hazes will not impose a penalty on Coldeweijer for this. The judge previously ruled correctly that the term may no longer be used by the juice vlogger. Coldeweijer said he would appeal against this, but has now announced that he will not pursue this.
Hazes writes in her message about the "unnecessarily hurtful" statements that Coldeweijer made in a video: "If Yvonne Coldeweijer makes it so happy to use these words, then as far as I'm concerned she can just go ahead."
Her lawyer will confirm to Coldeweijer's lawyer that no penalty will be invoked in this case.
In January, Hazes won a lawsuit against Coldeweijer, which was about a video in which the latter made "unnecessarily hurtful" statements about Hazes. In addition, the additional requirement was made that Coldeweijer Hazes may no longer refer to 'cremated croquette' in its reporting.
The judge ruled that Coldeweijer had to post a rectification and pay a penalty of 1000 euros for every hour that the video in question was still online. It was also decided that the juice vlogger may no longer use the term cremated croquette.
Yvonne Coldeweijer drops appeal
The 52-year-old Hazes says that the lawsuit was not about the juice vlogger's insulting words at the time. "I was concerned that it was said in the video that I was the one who leaked a letter from my son and that I intervened in my son's treatment in Spain."
According to Hazes this is untrue and Coldeweijer should have checked the facts. The judge ruled in Hazes' favor.
Coldeweijer indicated on Monday that he would appeal against the verdict. That was only about the use of the words "cremated croquette". "Pure and only the statement that I can no longer say those two incredibly pleasant words. Because guys, let's not exaggerate."
The 36-year-old Coldeweijer has now responded to Hazes' message. "The judge's decision stands and so I could still challenge it on principle. But since you have withdrawn, I don't feel comfortable having to bother our justice system with this. I think the judges are busy enough already I'm glad you can see that for yourself now."
---
---