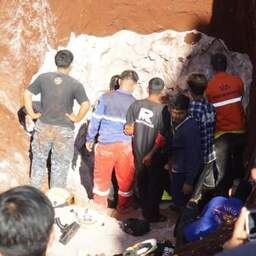 A baby who had been trapped in a well more than 13 meters deep in Thailand since Monday afternoon was rescued on Tuesday. The child fell through a 30 centimeter wide opening in the ground while playing.
The baby's parents, two migrants from Myanmar, were working in a nearby field in Khiri Rat district. They raised the alarm when they could not find the child under the tree where she was playing during their break.
Rescuers immediately sprang into action. All night, an excavator dug a 10-meter-deep pit next to the well to get to the baby. At the same time, oxygen was pumped into the well so that the baby could breathe.
The child was reached around 8 a.m. (local time). The last meters were slower, because the excavator was no longer used for fear of collapse. That is why they dug with shovels. Rescue workers could not immediately free the baby because she was injured on her leg.
"We are so happy that we were able to safely rescue her from the pit," one of the rescuers told reporters. "We've been busy since yesterday afternoon and didn't sleep. Everyone helped."
---
---