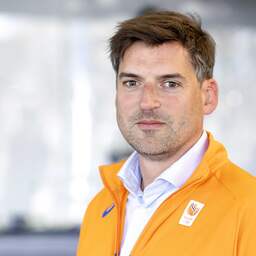 ---
07 Feb 2023 at 19:37
The Athletics Union hopes that it has created an environment in which athletes dare to speak out (earlier) about inappropriate or transgressive behaviour. The association has had many conversations after stories about a culture of fear in Dutch athletics came out through athletes and through the media.
Vincent Kortbeek (photo) has yet to officially start his job as technical director at the Athletics Union when his new employer is suddenly in the news. Trouw and NRC report at the beginning of October that Dutch athletes and coaches have been damaged in recent years by intimidation, verbal aggression, bullying and belittling.
"There was quite a bit of commotion, so of course I thought for a moment: what am I going to end up in?", says Kortbeek on Tuesday at Papendal, where he speaks to the press for the first time since his appointment on November 1. "But so far I have had a very soft landing, in a pleasant environment. I am not going to say that everything has changed and that there is suddenly a safe sports climate. But in my first three months I did not have a huge struggle or a very unsafe situation experienced within Dutch athletics."
The Dutch athletes have been more successful than ever in recent years, with the eight Olympic medals in 2021 in Tokyo as the highlight. But after those Games, the Athletics Union is also receiving more and more complaints about the culture under head coach Charles van Commenée and technical director Ad Roskam.
The article by Trouw and NRC makes those complaints public. The Athletics Union immediately stated in a response that the union partly recognizes itself in the story and "realizes that certain manners should have been different".
Because it was already clear at an earlier stage that Van Commenée (as of October 1) and Roskam (as of November 1) would stop at the Athletics Union, that change largely ends up on the plate of the new technical director. "Not everything was bad," says Kortbeek. "But our goal is to ensure that athletes feel safe enough to speak out. We want to give more space to the athlete's voice."
'No battle between different camps'
A week after publication of the article in Trouw and NRC, sixteen athletes came up with their own statement about the top sport culture in Dutch athletics. Top people like Sifan Hassan and Femke Bol did not recognize themselves in the stories about a culture of fear.
For example, it seemed as if two groups had emerged at Papendal, but according to technical director Vincent Kortbeek of the Athletics Union, this is not the case. "There is no major battle between two different camps in Dutch athletics."
Internal research athletics association has not been published
The forty-year-old Kortbeek, who made it to the Olympic Games in 2006 as a bobsleigher, has been technical director at the Bob en Slee Bond Nederland in recent years. As a result, he has experienced first-hand that transgressive behavior and top sports culture have become increasingly important topics in the Dutch sports world.
"It is not very realistic to think that we will ever solve this problem completely. There will always be situations in which athletes disagree with the choice of a coach," says Kortbeek. "Top sport can be tough, but that's mainly about performance. It doesn't have to be about the way we try to run faster and jump further."
The Athletics Union already started at the end of 2021 with a trajectory that was given the woolly name 'future-proof performance top sports climate'. The association launched an internal investigation to find out the extent of the problems raised by several athletes after Tokyo.
Those results are now known, but not published by the union. "We are dealing with personal opinions and individuals, which is very sensitive," says general manager Pieke de Zwart. "We have spoken to sixty athletes and all coaches and their insights have been fed back. I can say that those involved have come closer together."
A second project is still underway. An external consultant has been monitoring Papendal for some time now, where most Dutch top athletes train. The main goal is to create more time for conversations. Kortbeek: "We no longer want to get into a situation in which athletes or coaches continue to walk around with problems for too long."
Kortbeek about the departure of top coach Bennema
Bart Bennema confirmed on Monday that he is leaving the Athletics Union after fifteen years. The former decathlete coached Dafne Schippers and Nadine Visser, among others, with great success.
"Before my arrival, it had already been decided that Bart would no longer be the national coach for the sprinters and hurdlers," says technical director Vincent Kortbeek. "I understand that the previous coaching staff wanted to change something. I cannot judge whether this was the only way."
Former athletes Olyslager and Krumins new in staff
Kortbeek has already taken a few small steps in its first three months to achieve that goal. Most striking are the changes in the technical staff at Papendal.
Former hurdle champion Marjan Olyslager (60) has been recruited to support Kortbeek and the coaches on a part-time basis, especially in the field of a safe top sport climate. "Marjan has gained a lot of experience with this in recent years," says Kortbeek. "I also have a lot of responsibilities in the sporting field and with Marjan we now have someone extra who is involved in the theme of top sports climate."
Two-time Olympian Susan Krumins (36) will support national coach Tomasz Lewandowski in the (medium) long distances. Attracting Olyslager and Krumins also ensures that the athletics staff is no longer completely dominated by men.
"From athletes, there was a wish for more female coaches," says Kortbeek, who is not looking for a replacement for head coach Van Commenée. "Especially at tournaments, athletes like it when they can go to a woman."
---
---