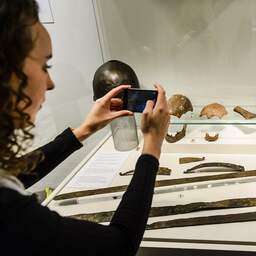 The Amsterdam Allard Pierson Museum in Amsterdam will investigate which pieces of the archaeological collections have come into their possession illegally. Little or no information about the provenance is now known about many of the approximately 19,000 objects.
The reason for the investigation, which will start this year and last until 2027, is requests from Italy to return a number of archaeological objects.
"The Allard Pierson feels responsible to combat illegal trade in and violence against archaeological objects and wants to participate in the social debate about ownership of heritage," says director Els van der Plas.
The fact that the origin of some of the objects is (partly) unknown does not automatically mean that they are illegal objects, the museum emphasizes. "It means that it has not been demonstrably established in the past how and when these objects left their country of origin and under what circumstances."
The research is being carried out in collaboration with researchers from the University of Amsterdam and the Italian Ministry of Culture. The Allard Pierson Museum was founded in 1934 and houses archaeological objects from the Mediterranean and Egypt, among others.
---
---