---
06 Feb 2023 at 05:02
Jutta Leerdam certainly did not experience a flawless Dutch Championship, but at the end of the tournament in Heerenveen she had qualified for the World Cup for the first time in three distances. A chronicle of three days full of medals and obstacles. "No matter what happens, nothing can get me out of the field."
Prologue
It is fifteen minutes after the 1,000 meters when Jac Orie decides to fool Leerdam in the middle area. "I'm not sure, but you may have been disqualified," the Jumbo-Visma coach says to his leader.
Orie bursts out laughing almost immediately. The referees do look at the images of the ride between Leerdam and Isabel Grevelt, because the riders briefly collided with their skates at an intersection. But there is no disqualification; Leerdam retains its first place and is national champion in the kilometer for the fourth time in a row.
"I don't know why we laughed so hard at that joke," says 24-year-old Leerdam a little later with a big smile. "Maybe it was the relief because I set such a good time again. I think Jac also likes the fact that I show every time that I can reach a high level."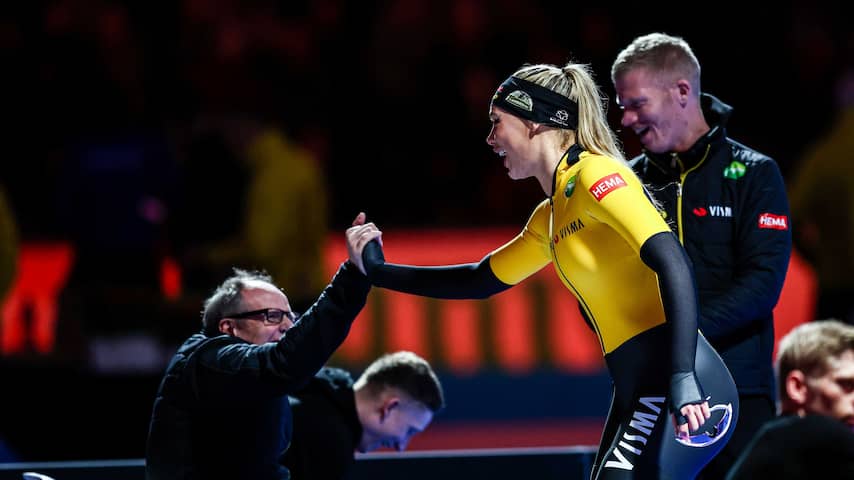 Jutta Leerdam receives a high five from her coach Jac Orie after the 1,000 meters. Photo: ANP
Friday February 3
Leerdam doesn't hesitate for a moment when she is asked whether she thinks the 1,500 meters is a nice distance. "No," she says. "But I have to say that I didn't find it very annoying today."
The South Holland woman mainly focuses on the 500 and 1,000 meters. The 1,500 meters is therefore always a very tough test, especially the last round. Her coordination is lost, the pain becomes severe and it is fighting to the finish. "The pain is not bad, I will survive it," says Leerdam. "But it's not so nice that I don't know what I'm doing in those last 400 meters."
Also on the opening day of the NK distances in Heerenveen, the final round of the 1,500 meters must come from Leerdam's toes. Due to the strong start of her race, she still has enough left over to record the third fastest time, just 0.18 seconds behind winner Antoinette Rijpma-de Jong.
---
I thought it was time not to give up the 1,500 meters for once.
Jutta Leerdam
---
"It may not have looked like it, but I was less broken than usual after a 1,500 meters today," says Leerdam with a smile. "After a lap and a half I started to get it hard. But I wasn't completely finished yet. That was relaxed."
Thanks to her bronze medal, Leerdam will be allowed to ride the 1,500 meters at the World Championship distances for the first time next month. "I did not immediately expect that I would qualify. Although since this season I have had the feeling that I belong in the 1,500 meters. Also because I have little to lose at this distance."
In recent seasons, Leerdam usually threw the 1,500 meters out of its program during the winter. "But I am now 24 and thought it was time not to give up this distance for once," she laughs. "I don't want to impose a limit on myself. I have the feeling that there will come a time when I can also win the 1,500 meters."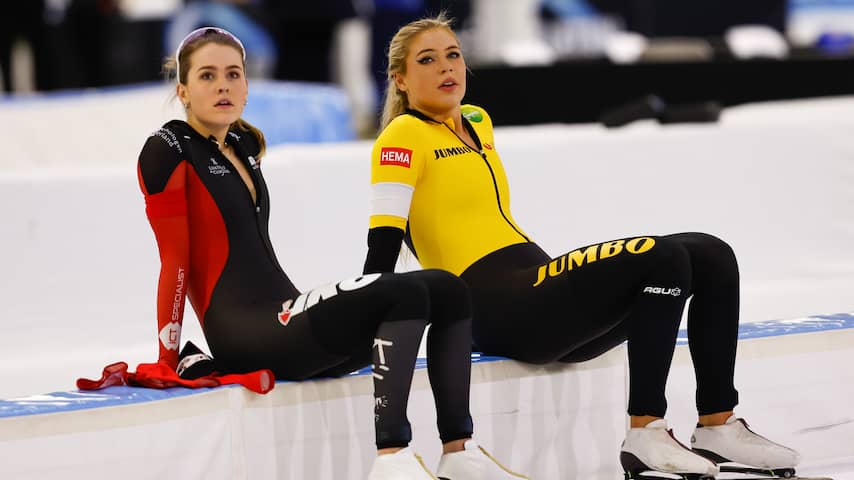 Jutta Leerdam (right) has to recover after her 1,500 meters. Photo: Pro Shots
Saturday February 4
Leerdam wakes up at 7 a.m. on the day of the 500 meters, barely five hours after she had lost the adrenaline of the 1,500 meters enough to fall asleep. Because of her short night's sleep, she chooses to skip the morning run-in this time.
She soon regrets that decision, because she notices that she is collapsing just before her first race in the 500 meters. After a slow opening of 10.75 seconds, Leerdam ends up with a moderate final time of 37.80. With that she is only third and concedes more than three tenths to Femke Kok.
"I don't think I'll ever watch that race again," says Leerdam. "I don't know what I was doing there, but it was certainly not good. A time of 37.8 is not for me. But I also thought: it can't get any worse than this in the second round."
In the little two hours between her two races, Leerdam no longer thinks about her failed 500 meters. "It's very strange, but apparently I can flip a switch, so I can let go of what happened and start again. I'm very good at fooling myself and quickly switching to the next goal. That's a nice quality to have as an athlete."
In the second round, Leerdam sets the fastest time with 37.53. It is not enough to keep Kok from the Dutch title, but she does take silver and her second World Cup ticket. "My second ride was completely different from my first. That felt like a nice revenge."
Jutta Leerdam was on the podium three times at the NK distances. Photo: ANP
Sunday February 5
Of course Leerdam feels during her 1,000 meters that she hits the skate of her opponent Grevelt with her skate. But after a second she almost forgot. "I don't think I've ever experienced this before. It was a bit of bad luck and certainly not ideal, but I don't get distracted that easily during a race."
This spot is also professionally erased by Leerdam. With 1:13.58 she is more than a second faster than the competition. "No matter what happens: nothing can get me out of the field. People around me sometimes even say that it's better if something goes wrong."
"This morning, for example, I didn't have my own suit yet. I had to ride in Dai's suit (teammate Dai Dai N'tab, ed.). You don't really want that on a match day, but our physio immediately said: 'I'm happy that this happened. Because it means you're going to skate hard this afternoon.'"
The gold medal in the 1,000 meters is the perfect conclusion to a tournament that was mainly a stepping stone to the World Cup for Leerdam. At the beginning of March she wants to convert her strong season into one or more world titles.
"I think it's very special that I can compete at three distances at the World Cup," says Leerdam. "It's nice that I prove to myself every time that I can still do it. That confirmation is very pleasant and fortunately I often get this season."
---
---