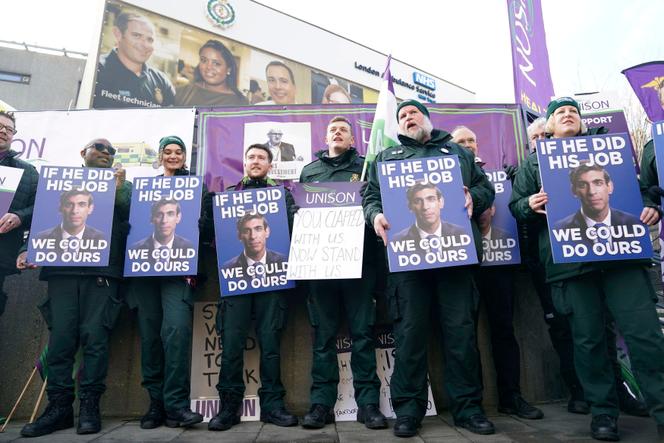 Demonstration outside the control room of the ambulance service of the National Health Service (NHS), the British public health system, in London, January 23, 2023. KIRSTY O'CONNOR / AP
Tens of thousands of English nurses and paramedics were to go on strike again, from Monday February 6, their third walkout in three months, at the call of the Unite, GMB and Royal College of Nursing (RCN) unions. . The nurses will extend the movement on Tuesday, the physiotherapists will disengage on Thursday and the paramedics will stop work the next day. According to the unions, this is the most massive mobilization in the history of the National Health Service (NHS), the British public health system, created in 1948. The staff are mobilizing for their pay, demanding increases in line with inflation at around 10%, well above the 4% increases proposed for 2022-2023.
At the beginning of January, the government of Rishi Sunak appeared to want to negotiate, but union officials now accuse it of turning a deaf ear, unlike the Scottish and Welsh governments. The RCN announced on February 3 that it was abandoning the strikes planned for this week in Wales, following an offer by the Welsh (Labour) government to increase the salaries of nurses by an additional 3%. The Scottish unions have also suspended their movement, after a proposal considered serious by the Scottish government.
"But where is Rishi Sunak, why isn't he at the negotiating table? "Amazed Sharon Graham, the boss of the Unite union, at the microphone of the BBC on Sunday. The Prime Minister assured a few days ago that he "would love" to increase the pay of nurses but that giving in to their demands would have a strong inflationary effect, while he made the fight against inflation his priority. His industry minister Grant Shapps suggested on Sunday that the strikers are "putting the lives of Britons" at risk. "If anyone puts their life in danger, it's this government!" 500 people die a week because of the lack of ambulances. And the NHS is short of 130,000 personnel, it's as if there were a strike every day! ", immediately reacted Sharon Graham.
Read also: Article reserved for our subscribers The English public hospital relies on the support of "charities"
Largest item in the state budget
Beyond this unprecedented social conflict, the question of the NHS model is raised. But for now, neither the Conservatives, in power for thirteen years, nor Labor, who hope to win Downing Street in the next general election (in 2024), dare to answer it frankly. When it was founded seventy-five years ago, the NHS was a revolutionary public service: it was completely free. It remains so: appointments with general practitioners, treatment by an ambulance, visits to the emergency room or hospitalizations are made without the patients – who must first be registered with the NHS – having to pay a pound.
You have 59.22% of this article left to read. The following is for subscribers only.
---
---