LETTER FROM ROME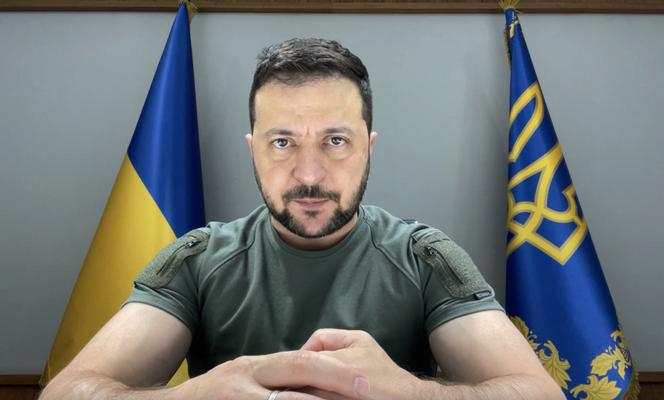 Ukrainian President Volodymyr Zelensky during one of his televised speeches in September 2022. STR / AFP
Since the start of the Russian invasion of Ukraine, its president, Volodymyr Zelensky, has become a regular at cultural ceremonies: he has already spoken, by video interposed, at the Cannes Film Festival, the Venice Film Festival and even the Golden Globes. And yet, since January 17, his potential presence at the Sanremo Italian Song Festival has created controversy in Italy. In the Peninsula more than elsewhere in Europe, support for Ukraine is divided and the man who has embodied his country's resistance for almost a year does not enjoy unanimous popularity within public opinion.
In Italy, the Sanremo Festival is an institution, an annual event that knows no equal. And by the very fact of its importance in the life of the Italians, it always causes polemics, divisions, quarrels. The 2023 edition of the event, the 73rd since its foundation in post-war Italy, which is due to begin on Tuesday February 7, is therefore this time embroiled in an international political debate, triggered by the invitation launched on January 17, by the television legend Italian Bruno Vespa during an interview in kyiv. The host offered Mr. Zelensky to participate in the festival by recording a message for Italian viewers. Its broadcast is scheduled for the closing night of the festival, Saturday, February 11.
Mr. Zelensky's participation in this great national moment, which brings together millions of people each year in front of their televisions for four long evenings of competitions between young singers, instantly revived the Italian debate on the war in Ukraine, after the friction on the sanctions against the Russia and the divisions that persist over the shipment of Italian arms to kyiv.
Read also (2022): Article reserved for our subscribers War in Ukraine: Mario Draghi shows his clear support for kyiv's European prospects
Support for Putin back on the offensive
In the political landscape, the personalities who had distinguished themselves by supporting Putin's Russia before the war and maintaining ambiguity over Ukraine are back on the offensive. Matteo Salvini, vice-president of the council (League, extreme right), declared his hostility to the intervention of the Ukrainian head of state. "We hope that Sanremo will remain the Italian song festival and nothing else," he said, quoted by SkyNews Italia. If the head of the executive, Giorgia Meloni (Fratelli d'Italia, extreme right), assured kyiv of Italy's unfailing support, its allies in the League are historically linked to Russian interests in the country.
You have 55.46% of this article left to read. The following is for subscribers only.
---
---