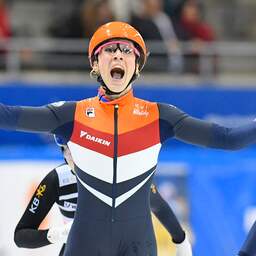 ---
Feb 05, 2023 at 4:28 PMUpdate: 3 minutes ago
Suzanne Schulting also won a gold medal with the relay team at the short track world cup competition in Dresden on Sunday. Schulting was individually on the highest step in the 500 and 1,000 meters this weekend. Sjinkie Knegt rode to silver in the men's 1,500 meters.
The Dutch short trackers, with Xandra Velzeboer, Selma Poutsma and Yara van Kerkhof in addition to Schulting, were the strongest in the relay, ahead of Canada and South Korea.
Earlier on Sunday, 25-year-old Schulting stayed ahead of her compatriot Xandra Velzeboer (second) and Choi Min-jeong (third) from South Korea in the 500-meter final. The Frisian already won the 1,000 meters on Saturday.
Earlier in the day, Selma Poutsma did not get further than seventh and last place in the 1,500 meter final. The gold went to South Korea's Kim Gilli.
The 33-year-old Knegt only had to tolerate the South Korean Park Ji-won in the 1,500 meters. The Frisian tried to overtake Park with a maneuver shortly before the finish, but fell a few centimeters short.
Friso Emons, the second Dutch short tracker in the 1,500 meter final, finished fourth. He had to leave the bronze to the Latvian Reinis Berzins.
The Dutch men had to ride the B-final on the relay and ran into a penalty. The mixed relay team had taken bronze on Saturday.
---
---