---
Feb 05, 2023 at 4:54 PMUpdate: 3 minutes ago
Jutta Leerdam became Dutch champion in the 1,000 meters for the fourth time in a row on Sunday in Heerenveen. The South Holland was in a class of its own.
The 24-year-old Leerdam rode to a time of 1.13.58. With that, the leader of Jumbo-Visma, who also triumphed from 2020 to 2022, kept the competition more than a second behind.
During her ride, Leerdam hit her opponent Isabel Grevelt in a corner, who staggered for a while. The jury looked at the incident afterwards, but decided not to disqualify the defending champion.
Antoinette Rijpma-de Jong came closest to Leerdam's time with 1:14.86 and came in second. She won both the 1,500 and 3,000 meters earlier this weekend.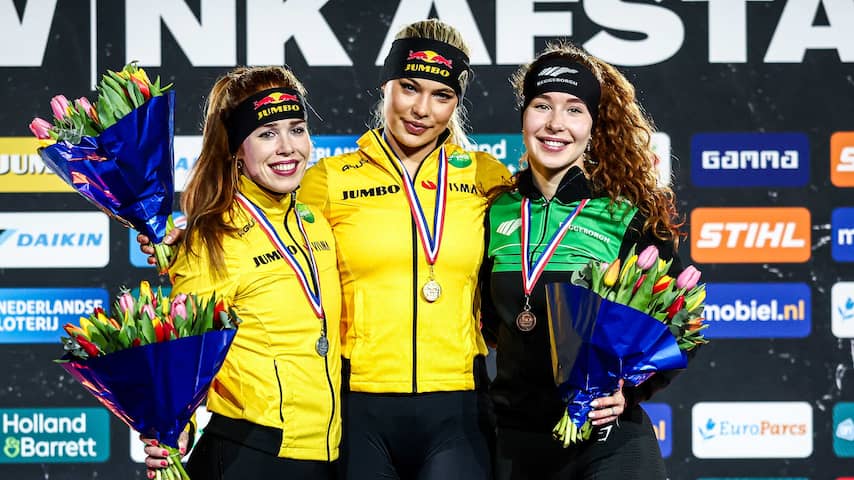 Jutta Leerdam is flanked on stage by the De Jong sisters. Photo: ANP
Kok grabs just next to the World Cup ticket
Her sister Michelle de Jong finished third with 1:14.96. Femke Kok ended up just next to the podium with 1.15.03 and therefore also missed out on a ticket for the World Championship distances, which will take place in Thialf from 2 to 5 March. Leerdam, Rijpma-de Jong and De Jong did ensure participation in the World Cup.
Leerdam dominates this season in the 1,000 meters. She won all four World Cup competitions, became Dutch and European sprint champion and was the first woman ever to dive under 1.13 on a lowland track.
On Saturday, Leerdam grabbed the gold in the 500 meters at the NK distances. Then she had to put up with Kok. The reigning sprint world champion took bronze in the 1,500 meters on Friday. She can therefore start at three distances at the World Cup.
---
---