---
05 Feb 2023 at 22:05
In recent years, Thomas Krol has won one gold medal after another, but this season the Olympic champion in the 1,000 meters is still on zero victories. In January, Krol therefore pressed the reset button. "In October there will be a completely different Thomas, I promise."
He was nicknamed 'The Machine' by his coach Jac Orie years ago. When the 1.91 meter tall Krol is in top shape, there are few skaters who can squeeze more power out of their bodies. "But if that machine is rusted, it becomes difficult," says Krol. "That machine has to be cranked up quite a bit every now and then, so that it is well oiled again."
The thirty-year-old Jumbo-Visma rider undoubtedly had a rusty pre-season. In the first four World Cups he was only three times on the podium in the 1,000 or 1,500 meters, and never on the top step. At the NK sprint at the end of December, he was only sixth, so he was not allowed to defend his European title.
"The first half of my season didn't give me much confidence that I can become world champion in March," says Krol. "So I had to try something different. That's not ideal in the middle of winter, you don't do that out of luxury. But I didn't think I could continue in the same way."
Together with Orie, Krol went looking for the cause of his lesser form. "And I think we have found it. I focused too much on getting faster, with special sprint and jump training. But I have always had to rely on my content, on heavy training. They were too much towards the background disappeared and that's why I didn't skate at my best. I noticed it especially in the last rounds on the 1,500 meters. It was like driving through thick syrup, which was incredibly frustrating."
Due to the empty competition calendar, Krol had time to train throughout January. "That was a very intensive and good block," he says. "I notice that I am fitter, I feel more like myself. It can and must be much better, but this could not be solved completely in one or two months. That must happen next summer. We already have a very nice plan for. In October there will be a completely different Thomas. I can promise that."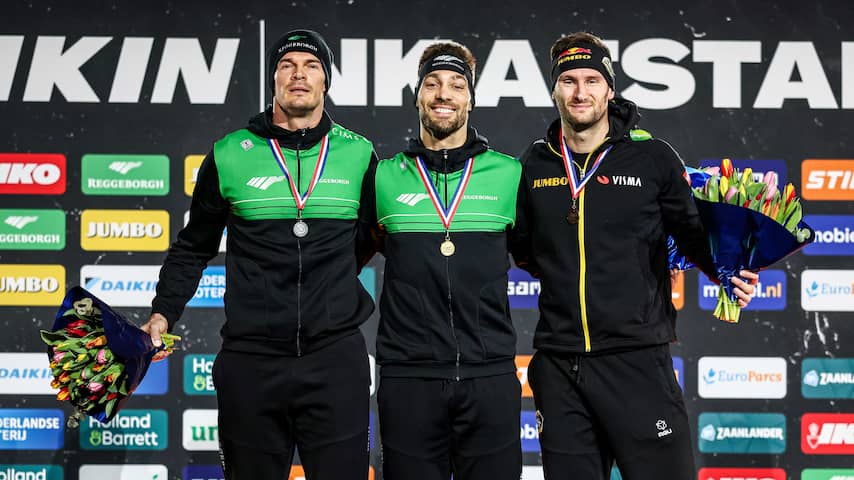 Thomas Krol (right) was Olympic champion third in the 1,000 meters at the NK distances. Hein Otterspeer (left) took silver and Kjeld Nuis (middle) won gold. Photo: Pro Shots
Krol still believes in his chances of a world title
That does not mean that Krol has already given up on the rest of this season. The medium-distance specialist finished on the podium in the 1,000 (bronze) and 1,500 meters (silver) at the NK distances in Thialf last weekend, qualifying him for the World Championships (2-5 March in Heerenveen) at those distances.
"I would have liked to have won gold once; that feeling prevailed on Sunday after the NK," says Krol. "But at the same time I am happy that I have two World Cup tickets. Based on the past few months, it was not self-evident that I would succeed. I absolutely believe that I can become world champion in March. In any case, I am going for 100 percent for."
If Krol manages to win an individual world title for the third time, he has promised himself to enjoy it more than in 2019 and 2021. "Becoming an Olympic champion has always been my great goal in life. I hardly allowed myself any pleasure after a world title or a world cup victory, because everything revolved around the Games. The pressure I felt from that was almost unhealthy."
Because of his golden 1,000 meters in Beijing a year ago, that extreme pressure has disappeared. "In that respect, this season is a lot easier," says Krol. "But believe me: that really does not mean that I want to win less. After a season without victories, I realize that you should celebrate every win and not take it for granted."
---
---