---
04 Feb 2023 at 05:09
He was only fifth in the NK ranking, but no one was happier on Friday after the 500 meters in Heerenveen than Dai Dai N'tab. The 28-year-old skater qualified for the World Championship distances and that was a great relief after a very tough year.
In the arms of his girlfriend Anissa Zadi, N'tab breaks. Hanging over Thialf's boarding, he celebrates his qualification for the World Cup, but also thinks back to one of the most difficult periods of his career.
"I had a tough time, so a lot came loose," says the Jumbo-Visma driver half an hour later. "Although it may have been the hardest for my girlfriend, because she had no influence on anything. She could only listen to me when I went through deep valleys and see if I did well on the ice or screwed up."
Skating has been a battle for N'tab over the past year. At the end of 2021, the four-time Dutch champion was the biggest loser of the qualifying tournament for the Beijing Olympic Games. Despite a second place in the 500 meters, he was not allowed to go to China, because the skating union KNSB gave Sven Kramer a pointer for the team pursuit.
"I have changed teams in recent years, started training differently and moved to Heerenveen. All for that one goal: the Games," says N'tab. "When that went away, and in a way that I didn't agree with, I found it very difficult to set new goals. I didn't feel it anymore, especially at the beginning of last summer. I've always been a confident person, but now I was an insecure athlete."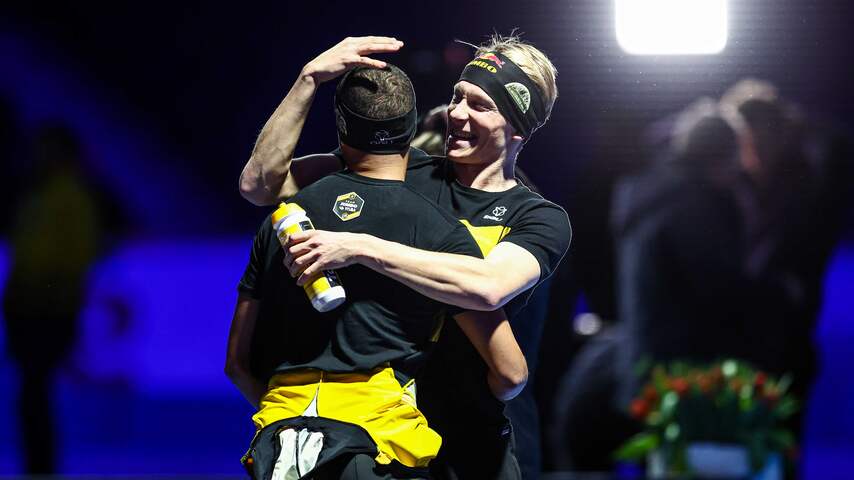 Dai Dai N'tab (left) celebrates his World Cup ticket with teammate and Dutch champion 500 meters Merijn Scheperkamp.Photo: ANP
N'tab does not want to look back to the past
Suppose, N'tab said to his girlfriend a few weeks ago, a painter has made a painting of the level of the Mona Lisa, but then he can't get anything out of his fingers. Then it's no longer fun to keep painting, is it?
"That's how skating works for me," says N'tab. "It has always been my dream job, but I have to reach my level. Otherwise I don't enjoy it."
At the start of this season, the fun hadn't returned to the N'tab. The sprinter qualified for the first four World Cups at the end of October, but he did not come close to a podium finish in that series of international competitions. A seventh place in the 500 meters in Heerenveen was his best result. In Calgary he even finished seventeenth once.
"Normally I always enjoy those World Cups. Nice to get on the plane, put my feet up, chill in the hotel and then skate hard. But now I knew that I was not close to my top form and I started to think about it a lot. That made those six weeks were tough, especially mentally. When I got home, I was completely broken."
That was the signal for N'tab to listen more to his body. And most importantly, to stop thinking about the past. "That was my most important assignment: not looking back at what has happened, but daring to look ahead. I try to simplify everything by focusing on what I am worth now."
Result 500 meters on fastest time
Merijn Scheperkamp – 34.61
Dai Dai N'tab – 34.89 Hein Otterspeer – 34.91 Stefan Westenbroek – 34.93 Janno Botman – 34.96
Can N'tab reach his top level at the World Cup?
In the mountains of South Tyrol, N'tab noticed three weeks ago that this approach was starting to work. Skating went better and better at a training camp in Collalbo, Italy, also because the back pain he had been struggling with for some time had disappeared.
Back in Heerenveen, a disappointing time in a training match (35.65) caused some doubts, but on Friday N'tab was there when it had to be. He recorded the second best time of the day in the NK distances with 34.89, securing a World Cup ticket. Due to a failed second round (35.28), he dropped to fifth place in the national championship results, but that was secondary.
"It is a great relief that I have done enough to qualify for the World Cup. That is a new goal that I am very excited about," says N'tab.
"I am still not at my top level, because I have already driven 34.37 in Heerenveen (at the end of 2019 at the NK, ed.). But I have now improved from 35.6 to 34 in two weeks, 8. If I manage to do that again in the coming weeks, I might be able to show something really nice at the World Cup."
---
---