A new car seems attractive. But isn't it much smarter to drive longer in your current car? That saves a lot of money and is so sustainable. However?
This article is from AD. Every day a selection of the best articles from the newspapers and magazines appears on NU.nl. You can read more about that here.
Henk Riepema (66) from Nieuwerkerk aan den IJssel prefers to buy a different car every few years. "It once started with a Fiat 128, but at some point you can afford to drive a little newer. Now that I can, I choose my cars as young as possible. At the moment I drive a BMW X4 M40i from June 2020 I imported it from Germany."
Son Michael (37) takes a different approach. There is no BMW of the latest generation in front of his house in Moordrecht, but a 525i Touring from 2004. "I paid something like 6000 euros for that. I like an X4 like my dad's, but I think the older BMW- models are better put together. And it is a piece of nostalgia, because they are no longer made like this. As a teenager I already got the brochure of this 5-Series from the dealer, which is still in the attic. So it is extra nice to to have this model in real life now."
The difference in purchasing policies of father and son raises interesting questions. Who makes the smartest choice financially? How can you ensure that you keep those costs under control as much as possible? And what is more sustainable and therefore better for the environment: keep driving an existing car or buy a brand new one?
Huge expense
Anyone who puts their annual car expenses together is shocked. After the house, the family car is by far the largest cost item for many households. Econometrician and Toyota driver Ronald Jorna from Wijhe has been keeping careful track of his car costs for over 25 years and calculated that he spent almost one and a half tons on car ownership and use in that quarter of a century. "I have kept track of all expenses, except parking costs. So purchase, depreciation, road tax, maintenance, repairs, fuel costs and insurance. I even included the fines and although I am by no means a wild driver, they still account for 2.1 percent of the total amount."
Another major expense: taxes. According to the ANWB, about 39 percent is spent on matters such as excise duty on fuel, purchase tax (bpm) and motor vehicle tax. Because road tax is linked to a car's CO2 emissions and fuel type, it pays to choose a newer car: the current Toyota Yaris Hybrid costs a maximum of 132 euros per quarter, while the tax authorities for a thirteen-year-old BMW 530d Touring on diesel every quarter up to 549 euros int.
The figures below the line do not lie, concludes Jorna: "In total, owning and using my cars cost me about 146,359 euros in 25 years. If you include inflation since 1993, you end up at about 179,138 euros. ."
Depreciation and maintenance
When purchasing a car, it is of course cheaper to buy a used one. With a few exceptions, depreciation is usually greatest in the first twelve months of a car's life. "That's why I'm going for a car with the head off," says Henk Riepema. "That makes a big difference: new this X4 cost around 140,000 euros, but when it was about eight months old, the price in the Netherlands dropped by about 60,000 euros." However, that makes Henk's relatively new BMW still more than ten times more expensive to purchase than son Michael's nineteen-year-old 5-Series.
"I also opt for a young model because I don't have to worry about wear and tear, garage visits and expensive repairs," says Henk when maintenance comes up. There is a grain of truth to this: the chance of high garage bills is statistically greater with an older car. But on more modern models, the parts are often more expensive to replace. If an adaptive LED headlight breaks on Henk's X4, it will cost him 2099 euros: more than four times as expensive as an original 5-Series xenon unit from 2004 that son Michael drives.
"In the past you couldn't even do long with a car," says Henk. "In my first Fiat I looked out through the sheet metal after six years! Nowadays cars are so good that you can easily keep driving them for thirty years." Michael: "The difference is that Dad lived through a time when cars were really bad. My 5-Series is indeed so solid that it can last another twenty years if it is properly maintained. I like to tinker and change parts myself also preventively. As a result, I have an average of 1000 euros per year in costs. But I think that Dad is also involved with just his annual service at the BMW dealer."
More sustainable, provided…
And then there is the sustainable aspect when choosing a car: continuing to drive in an old car is undeniably cheaper, but is it also better for the environment? The answer can roughly be divided into three components: what does the fuel consumption (and therefore the CO2 emissions) of a model do, what about the emission of harmful substances and what about the total impact that the model has on the world. More and more car brands are recording the latter in a so-called life cycle assessment (LCA), a kind of environmental impact assessment.
Cars with a petrol engine in particular have become much more economical in recent years, Michael also knows: "The consumption of the 5-Series is quite substantial, I think an average of 1 in 8. Dad's X4 has 200 hp more, but consumes much more. fewer." Anyone who buys a hybrid, plug-in hybrid or fully electric car saves even more fuel and protects the environment. Because such models demonstrably emit much less harmful substances while driving.
Accu's
On the other hand, the production of every new car causes a lot of emissions, including from the extraction of rare raw materials, the production of batteries and the running of factories. All these aspects, in addition to the expected emissions during the use of a car, are included in an LCA, resulting in a reliable estimate of the impact of a car on the planet.
Research by, among others, the authoritative American Massachusetts Institute of Technology (MiT) shows that building an electric car can cause up to 80 percent more emissions than producing a petrol model. This is mainly due to the intensive production of battery packs.
But as soon as the cars start making kilometers, electric models quickly turn out to be more favorable, especially if they run on sustainably generated electricity. Even if their lifespan is twice as short as a comparable petrol model, a fully electric car is less harmful to the world than a fossil fuel car, according to the MiT.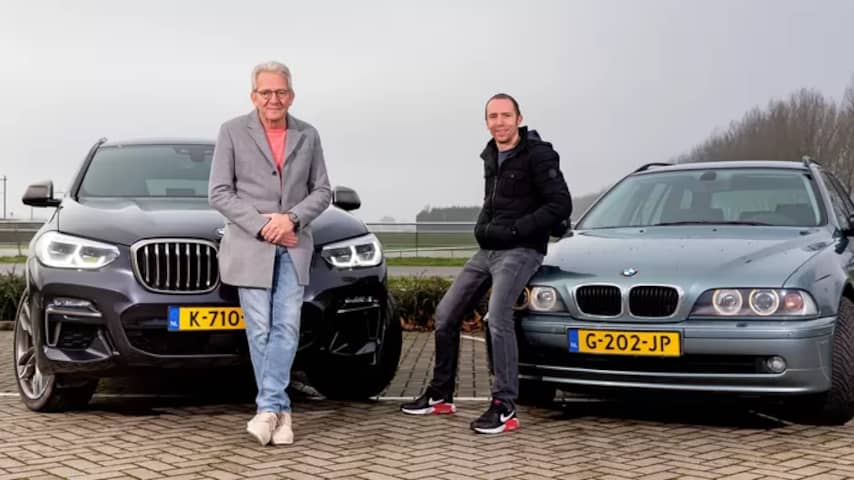 -Photo: Bart Hoogveld
'Definitely cheaper to drive through'
Yet it is not easy to say which is cheaper and more sustainable, according to spokesperson Joyce Donat of the Consumers' Association. "In principle, it is clear that it is almost always more economical from a financial point of view to continue driving in an older car. The purchase and depreciation are so much higher with a new car that in nine out of ten cases you spend a lot on maintenance of your car. you can spend your existing car before it costs you more."
The differences in sustainability are more difficult to interpret, says Donat. "Organizations such as Green NCAP (which assesses and ranks cars according to their sustainable aspects such as CO2 emissions, ed.) Do provide insight into the difference between models, but those figures only exist for relatively new cars. When you compare a modern fuel car with an electric model of the same age, the version without a combustion engine almost always proves to be the more sustainable choice."
Compared to an existing car, this outcome is less clear, because it is not clear, for example, how much emissions were ever generated with the production of, for example, Michael's BMW in 2004. Donat: "It is therefore difficult to say whether a new car is by definition is more sustainable than a used one that you drive on for longer. But what you can say with certainty is that more modern cars have a more favorable effect on air quality."
---
---