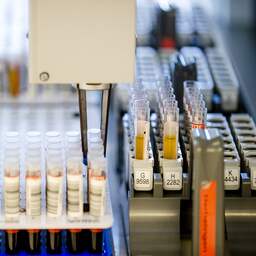 ---
Feb 04, 2023 at 11:08 Update: 4 minutes ago
Sanquin blood bank says that after Thijs Slegers' call, "hundreds of donors more than usual" have registered with the blood bank. PSV's terminally ill press secretary called on people this week to register as a blood or stem cell donor.
The blood bank sees a direct connection between Slegers' call and the sudden peak in the number of donors. "We mainly see a strikingly large number of men," says the spokesperson. Sanquin has predominantly more women registered in its current database, so the increase in the number of male donors is an extra bonus.
Slegers called on people to register as a donor at the Sanquin blood bank and the Matchis foundation, the stem cell donor bank in the Netherlands. Matchis already saw on Thursday afternoon that 1,100 new registrations had been received in response to Slegers' call.
Blood donors, like stem cell donors, are crucial in patients' fight against cancer. "About 30 percent of our blood goes to cancer patients," says Sanquin's spokesperson.
The blood bank kicked off a campaign two weeks ago in collaboration with PSV and Philips, an important sponsor of the football club. The initiative aimed to encourage supporters to become blood or plasma donors. The spokesperson says that this action was in principle not linked to Slegers' illness, but that he was involved as press secretary of the Eindhoven football club.
Slegers announced on Thursday that he can no longer be treated for his rejection disease. He called on people to register as a blood and stem cell donor. "I can't be helped anymore, but others can!" he wrote.
Unfortunately, this content cannot be displayed. We do not have permission for the necessary cookies. Accept the cookies to view this content.
Change cookie settings
---
---