---
Feb 04, 2023 at 2:23 PMUpdate: 3 minutes ago
Irene Schouten placed herself in the 3 kilometers on Saturday in the nick of time for the World Cup distances. The national title went to Antoinette Rijpma-de Jong. Jutta Leerdam is not yet sure of a World Cup ticket after the first round in the 500 meters and Femke Kok is leading.
As reigning Olympic champion and title defender, Schouten was the big favorite for the 3 kilometers at the NK distances. The thirty-year-old skater has won almost everything at this distance in recent years, but did not come close to her top level on Saturday in Thialf.
Schouten had to finish in the top three to qualify for the World Championship distances (March 2-5 in Thialf). For a long time even that seemed too ambitious for her, but due to a final sprint in the last round she just succeeded. With 4:02.83, Schouten was only 0.03 seconds faster than teammate Marijke Groenewoud, so she still took bronze and a World Cup ticket.
Rijpma-de Jong won the national title by beating Joy Beune in an exciting ride. Beune took a lead, but in the last round Rijpma-de Jong came back nicely: 3.58.48 to 3.58.65. Those times were enough for gold and silver.
It is the third Dutch title in the 3 kilometers for Rijpma-de Jong. She previously won gold in 2018 and 2019. On Friday she was also the best in the 1,500 meters in Heerenveen.
Beune finished fourth in the skating mile, so she was not yet qualified for the World Cup. Due to her second place in the 3 kilometers, the former world all-round champion among the juniors is now certain to participate in the most important tournament of the winter.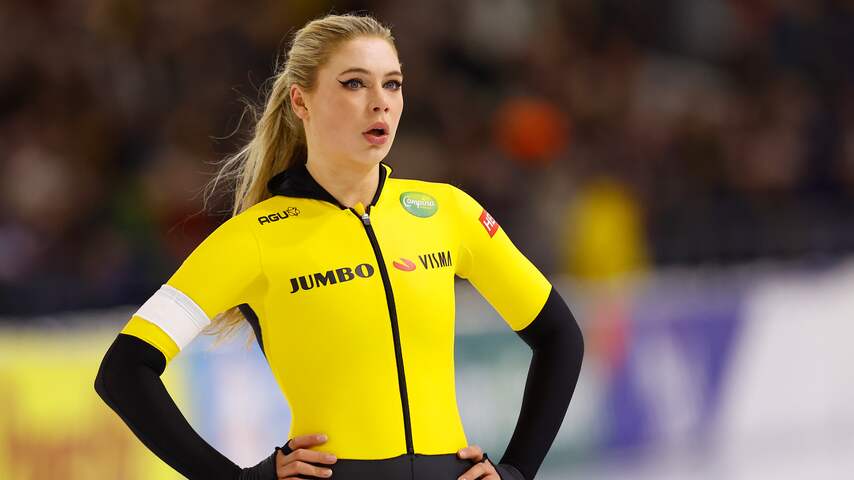 Jutta Leerdam was not satisfied after the first 500 meters. Photo: Pro Shots
Leerdam only third in the first 500 meters
In the first 500 meters, Leerdam was surprisingly beaten in a direct duel by Michelle de Jong: 37.65 to 37.80. Kok set the best time one stage earlier: 37.48.
Marrit Fledderus finished fourth in 37.84. The 21-year-old Frisian was therefore only 0.04 seconds slower than Leerdam and can still hope to qualify for the World Cup.
The women drive another 500 meters from 3.44 pm. For the Dutch title, the ranking counts for which the times of the two rounds are added together. Qualification for the World Championship distances (2-5 March in Thialf) is not based on this ranking. The starting tickets for the global tournament are for the three skaters with the fastest time.
Leerdam already skated the 1,500 meters on Friday evening, where she took bronze. The leader of Jumbo-Visma drove to the Dutch title in the 500 meters in 2020 and last year. Kok, the holder of the Dutch record, was the best in the shortest distance in 2021.
---
---