---
04 Feb 2023 at 09:46
Manuel Neuer has lashed out at Bayern Munich's leadership. The injured goalkeeper and captain does not understand the dismissal of goalkeeper coach Toni Tapalovic and even calls it the "brutalest" he has experienced in his career. Chairman of the board Oliver Kahn thinks that the 36-year-old Neuer has gone too far with his statements.
In an interview with The Athletic, Neuer responded for the first time on Friday to the departure of Tapalovic, who had to leave a week and a half ago after more than eleven years due to a "difference of opinion". The 117-time German international was completely surprised by the news.
"It was a blow to me, while I was already on the ground," said Neuer, who is recovering from a broken leg. "I felt like my heart was being ripped out. Yes, it was the cruelest thing I've been through in my career. And I've been through a lot."
It's no secret that Neuer and Tapalovic, six years his senior, have a friendly relationship, but according to Neuer, that's irrelevant now. "We were always able to separate work and private life. I understand that it might sound like I'm not being objective or credible, but I can really see the difference," said Neuer, who emphasized that he is not the only Bayern goalkeeper is devastated by Tapalovic's forced departure. "Our whole group of goalkeepers was in tears. Toni was popular with the whole team."
Neuer, who is in his twelfth season in Munich, called the end of the long and successful partnership between Bayern and Tapalovic extremely painful. "We want to be different at Bayern, namely a family. And this is happening. It's sad for everyone."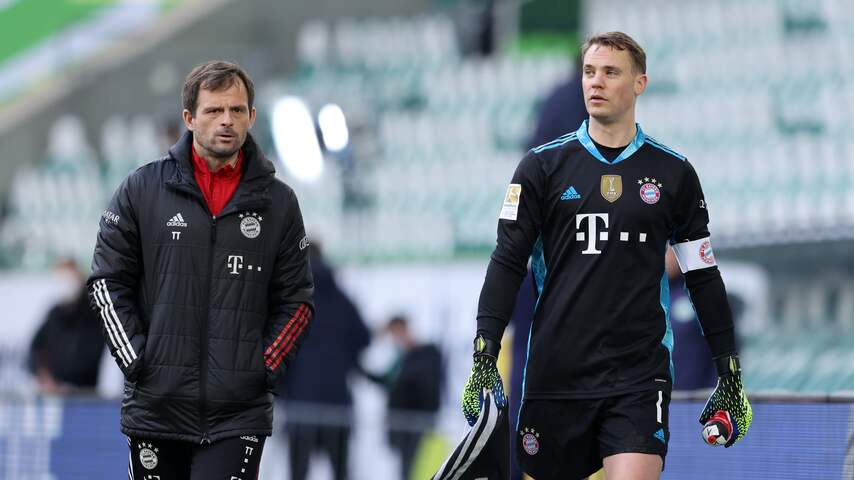 Toni Tapalovic and Manuel Neuer in April 2021.Photo: Getty Images
"This does not suit a Bayern captain"
In the interview, Neuer already expressed the expectation that the club management will not be happy with his statements and it shows. Chairman of the board Kahn said in a response to the German news agency DPA on Saturday that he wants to talk to the goalkeeper, who will no longer play this season due to his broken leg.
"What Manuel has said about Tapalovic's departure is not befitting a captain and does not correspond to Bayern's values," said the former goalkeeper. "Moreover, he makes his statements at the wrong time. Important matches are coming."
Kahn understands that Neuer was personally affected by Tapalovic's departure. "We were aware of that when we told Manuel and explained it. It was not an easy decision to say goodbye to Tapalovic, but it is the best the team."
Bayern Munich's next match is against VfL Wolfsburg on Sunday at 5.30 pm. The Bundesliga leader had a poor start to 2023, which has reduced the lead over the competition.
Stand at the top of the Bundesliga
Bayern Munich 18-37 (+36) Union Berlin 18-36 (+9) RB Leipzig 18-35 (+15) Borussia Dortmund 18-34 (+8) SC Freiburg 18-34 (+4)
---
---