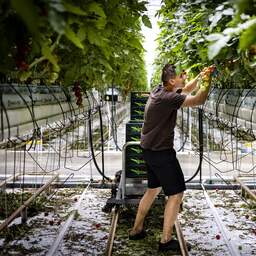 ---
Feb 04, 2023 at 07:49Update: 6 minutes ago
The number of labor migrants in our country has increased considerably in recent years. At the moment, some 800,000 people from Eastern Europe, among others, work in agriculture and horticulture, the various distribution centers and delivery. Does the Dutch labor market really need these forces?
The number of migrant workers in the Netherlands has quadrupled between 2006 and 2021, according to research by SEO Economic Research commissioned by employment agency ABU. An increasing part of the group comes from Central and Eastern Europe. This often concerns Poles, but in recent years the share of Romanians and Bulgarians has grown.
"If they leave today, it will be difficult to fill these vacancies," expects Olaf van Vliet, professor of economics at Leiden University.
This group mainly performs cheap labour. Think of asparagus pickers and people who work in distribution centers. "In certain sectors there is a lot of flexible work that requires hands. These people then come from abroad," says Piet Fortuin, chairman of the CNV trade union.
Director Frank van Gool of employment agency OTTO Work Force emphasizes that we cannot do without these labor migrants. "Then the shops and supermarkets are empty and there are no vegetables from the greenhouses on the shelves. But a problem also arises in healthcare, technology and construction. We even made it to the Philippines to work in healthcare here."
Leaning on migrant workers has a downside
Labor migration is often seen as a solution to the shortage of people on the labor market. Fortuin also sees a downside: "Employers see the shortage as an argument, but we should not open the floodgates wide. We see that social pressure is increasing, especially when it comes to housing."
Moreover, the CNV chairman believes that there are already enough people in the Netherlands standing by the side. "We must first look at the untapped labor potential. There are still many over-55s who do not get a job, the same applies to people who are partially incapacitated for work. Furthermore, more efforts must be made on training."
Van Gool of OTTO Work Force also thinks it is quite right that a discussion is being held about the arrival of labor migrants. "It is important to look at how we want to organize this in the Netherlands, but that does not mean that we do not need them. These people make an important contribution to our economy."
Your package may not be delivered for free
According to Professor Van Vliet, you can also look at it differently. "Since it also often concerns low-paid jobs, you can ask yourself: do we want this in our country? Is it bad, for example, that we have less agriculture and horticulture, distribution centers or delivery drivers?", he wonders aloud.
According to Van Vliet, this is a political choice. "In a broad assessment of the pros and cons – for example, the pressure on the housing market – some people might choose a contraction of some sectors."
According to the professor, we will also move towards a different kind of economy if the demand for labor migrants decreases. "That means that the price of labor will increase and the consumer will notice that. For example, your package may no longer be delivered for free."
---
---