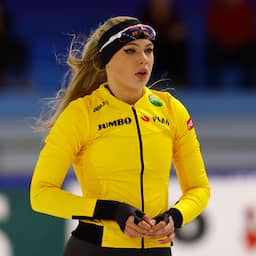 ---
Feb 04, 2023 at 2:23 PMUpdate: 11 minutes ago
Jutta Leerdam finished disappointingly third in the first 500 meters at NK distances on Saturday. The defending champion is therefore not yet sure of a ticket for the World Championship distances. Femke Kok was the fastest in the first round in Thialf.
Leerdam was surprisingly beaten in a direct duel by Michelle de Jong: 37.65 to 37.80. Kok came to the best time of the first 500 meters one ride earlier: 37.48.
Marrit Fledderus finished fourth in 37.84. The 21-year-old Frisian was therefore only 0.04 seconds slower than Leerdam and can still hope to qualify for the World Cup.
The women will ride another 500 meters from 3.44 p.m. on Saturday. For the Dutch title, the ranking counts for which the times of the two rounds are added together. Qualification for the World Championship distances (2-5 March in Thialf) is not based on this ranking. The starting tickets for the global tournament are for the three skaters with the fastest time.
Leerdam already skated the 1,500 meters on Friday evening, where she took bronze. The leader of Jumbo-Visma drove to the Dutch title in the 500 meters in 2020 and last year. Kok, the holder of the Dutch record, was the best in the shortest distance in 2021.
The men rode the 500 meters on Friday. Merijn Scheperkamp won the gold. On Saturday, in addition to the second 500 meters for women, the 3 kilometers for women and the 1,500 meters for men are also on the program.
---
---