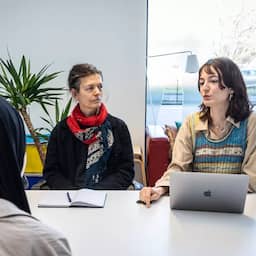 The Women's Law Center in West is so busy that the municipality has decided to allocate a subsidy for two new locations: in North and Southeast. They will officially open on Friday. 'Frequently asked question: I want a divorce. But how do you do that?'
This article comes from Het Parool. Every day a selection of the best articles from the newspapers and magazines appears on NU.nl. You can read more about that here.
At the very back of the library of De Banne, past the children's books and computer monitors, is the brand new Women's Law Center of Amsterdam-Noord, which has been open for about two weeks, but will not be officially opened until Friday. Flyers are already being handed out in the area, but the influx clearly has yet to get going. It's quiet. Legal advisers Sabine Leijs and Babiche Bekink bend over their laptops at a large table. They have just heard the story of a woman caught up in a labor dispute. "Because it is urgent, we are already trying to collect some initial information for this woman today," says Leijs. While they delve into jurisprudence, two colleagues are sitting in one of the two consulting rooms with another client: a woman who is going through a divorce.
So this location still needs to get up to speed, but how quickly it can get busy became apparent in West, where the first Women's Right Shop in Amsterdam was opened in September 2021 at the urgent request of women's organizations from the district. The first location was in the accommodation of the Aminah Foundation on the Bos en Lommerweg. The target group? So women. "We went in blank at the beginning: We open the store and see who comes," says general manager Susan Leclercq, who has been involved from the start.
Arabic office hours
They are now one and a half years and 734 cases further. Last week the Arabic office hours started in West. "That is immediately very busy." And as of today, two locations have officially been added: in Noord and in the Ala Kondre community center in Southeast. The team has expanded from 14 to 41 legal advisers.
Because the Vrouwenrechtswinkel registers which questions clients come up with, there is now a good picture of what women need help with. About 45 percent of visitors to West have questions about personal or family law, such as divorces, access arrangements and alimony. Questions within immigration law are in second place with 18 percent. "We keep a close eye on those figures," says Leclercq, "because we want to gain insight from the data into which problems are at play. Can we discover trends? And then: can we do something about it?"
The Women's Right Shop was set up by Bureau Clara Wichmann and the Amsterdam Law Hub of the University of Amsterdam, and the municipality subsidizes the shops. According to councilor for Inclusion and Anti-Discrimination Policy Touria Meliani, this initiative is badly needed, because there is still a lot of inequality between men and women: "It is more difficult for some women to make use of their rights, for example women in a vulnerable position and few opportunities to get yourself a lawyer."
Inequality
At 'the shop', as the Women's Right Shop is affectionately called here in Noord, it becomes clear how great the inequality between men and women still is, especially when women are in a position of dependence on their husbands. "Women then come up with questions such as: I want a divorce, but the house is in my husband's name, he is the breadwinner and I am left with the care of the children. Now what?" says lawyer Marlies Vegter. The lease is often in the name of the spouse.
What many women don't know is that if you are married or have a registered partnership, you are automatically a co-tenant," says location manager and legal adviser Yasemin Savci. "Then you have the same rights. Which of course does not mean that you can pay the rent or that you can continue to live there. But it is still good news that we can bring."
Sometimes the law is downright crooked, they know here, for example with the 'dependent right of residence'. Vegter regularly speaks to women who have the right to reside in the Netherlands, provided they are and remain married to their husband. "If that man then abuses her, which we hear quite regularly, she therefore has the choice: 'I will allow that abuse to continue or I run the risk of having to leave the country'. That is a legally created dependency."
Own right of residence
Savci adds: "After a few years, a woman eventually gets her own right of residence, but now there are situations where we have to say to such a woman: 'If you can: hold on for a while, because then you have your own right of residence in a few months'." It is true that all this can be circumvented, but then such a woman must demonstrate that she is being mistreated. "That's not easy," says Vegter. Moreover, many women do not dare to do this.
But cases of suspected pregnancy discrimination also come up regularly, says Vegter. "Then temporary contracts will not be extended if it becomes known that someone is pregnant." But victims of a traffic accident also report: "A moped has hit me. Who should pay for the damage?" And questions about possible legal action in case of leaking implants. Leclercq: "Women can come to us with all questions, so we also receive all questions. But in the end, we hope to be there for the women for whom our advice has the most impact."
Women's right shop
The Women's Law Center largely runs on law students. They conduct the interviews with the women and write the legal advice. Lawyers read through all advice and correct it where necessary before it is finally shared with the women.
According to general manager Susan Leclercq, recruiting students for the Women's Law Center is no problem. "Because feminism is in, I think. Everyone wants to do something about women's rights. We have the tide on our side. We probably couldn't have set up this shop twenty years ago." Leclercq also often hears from the students that they like to work in a diverse team. "But some also say: I don't know how I got my work experience otherwise, because I have no connections at Zuidas offices."
---
---