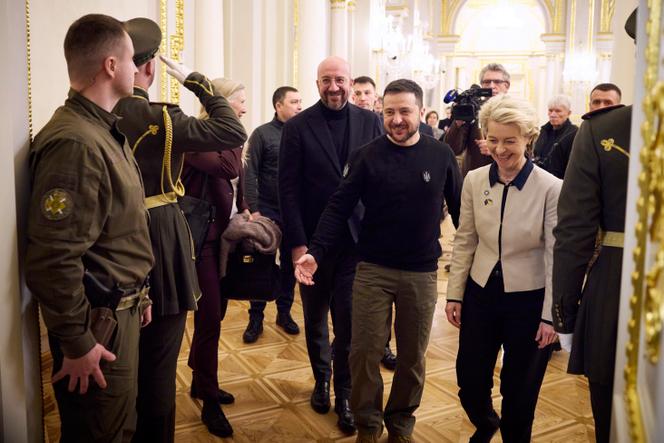 Ukrainian President Volodymyr Zelensky meets with European Commission President Ursula von der Leyen and European Council President Charles Michel during the EU-Ukraine summit in kyiv on February 3, 2023. AP
Just before the start of the European Union (EU)-Ukraine summit held in kyiv on Friday February 3, an aerial siren sounded near Maidan Square, where Ursula von der Leyen had stopped. The President of the Commission, who was then to meet Volodymyr Zelensky and Charles Michel, her counterpart from the European Council, at the presidential palace, had to go to a shelter for more than half an hour. The day before, a diplomat had confided to us that he expected that, on the occasion of this meeting, Moscow would remember the memory of the Europeans.
Read also: Article reserved for our subscribers Accession of Ukraine to the European Union: Ursula von der Leyen at the maneuver
As the February 24, 2022 anniversary of Russia's invasion of Ukraine draws closer, "we are preparing" for a build-up of the Russian offensive, Volodymyr Zelensky said wearily. after the summit. For that, insisted the Ukrainian president, we need weapons. After pressuring the West to deliver tanks, he is now asking them for planes, and even more long-range weapons, which he said "can change the tide of war". . "In terms of weapons, there is a European ambiguity which prolongs the war. We will have to clarify things, "judges a European source.
To win the war, continued Volodymyr Zelensky, you also need "motivation", which "does not depend only on our partners but also on the state of mind of the country". "A year ago, we were all at war," he recalled. But today, he says he is worried about a certain "laxity" in the Ukrainian towns that have been liberated, and "it is their weakness". "Everyone must understand that we are still at war, the war is not over," he said, calling on his fellow citizens to pull themselves together. "Zelensky is a commander-in-chief, he wants to tighten the troops", deciphers a European source.
Read also: Article reserved for our subscribers War in Ukraine: kyiv's allies resolve to deliver heavy tanks to the country
Request for sanctions against Rosatom
Ursula von der Leyen for her part promised her host that, by February 24, a tenth package of sanctions against Russia would be on the table, which would make it possible to further stifle its economy and its military industry. In total, 10 billion euros of trade between the EU and Russia should be affected, she announced. The Ukrainian president, for his part, specifically asked the Twenty-Seven to better fight against the circumvention of restrictive measures, which allow Moscow to reconstitute its armament, and to take sanctions against the Russian nuclear specialist, Rosatom, until here spared.
You have 50.35% of this article left to read. The following is for subscribers only.
---
---