It's raining heavily in Calais. The wind is roaring and the sidewalks are soaked. No one ventures there except for a few migrants desperately seeking shelter. In this month of January, local associations estimate their number at around 800 – mainly from Sudan, Eritrea, Syria but also from Iraq and Afghanistan – in this port city of Pas-de-Calais that a strait separates from the UK. They live today in several informal camps, scattered in the woods bordering car parks reserved for heavy goods vehicles, or behind the sheds of a commercial area. Fences have been erected under several bridges in the city center spanning the Calais Canal, to prevent them from setting up their tents there. But, to get dry, some did not hesitate to crawl under the scrap metal.
"They dug the earth like rabbits", remarks, disillusioned, Juliette Delaplace, project manager for Secours Catholique, who organizes a day reception in a room where, every afternoon, between 300 and 400 people flock to finding warmth, charging a phone battery, finding out about administrative procedures, picking up clothes or playing a Connect 4 game. "You have to experience it to understand that there is no place to take refuge when it rains," continues Ms. Delaplace. Since then, the municipality, led by Natacha Bouchart (Les Républicains) since 2008, seized the administrative court of Lille which ordered, on January 18, "all occupants without right or title", installed under bridges and on the quays of the city, "to leave the premises and evacuate their property without delay.
Read the chronicle: Article reserved for our subscribers "The Le Touquet agreements allow London to avoid its duty of asylum. Brexit has made them obsolete"
The signing of the Treaty of Le Touquet on February 4, 2003 had the effect of moving the British border to France, with shared management of the control of migratory flows. Twenty years later, security devices have multiplied, particularly in Calais, barring the landscape with fences, barbed wire and concrete walls to prevent them from camping there or clearing a passage to the port – from where up to fifty ferries a day to England – and the Channel Tunnel rail terminal a few miles away at Coquelles.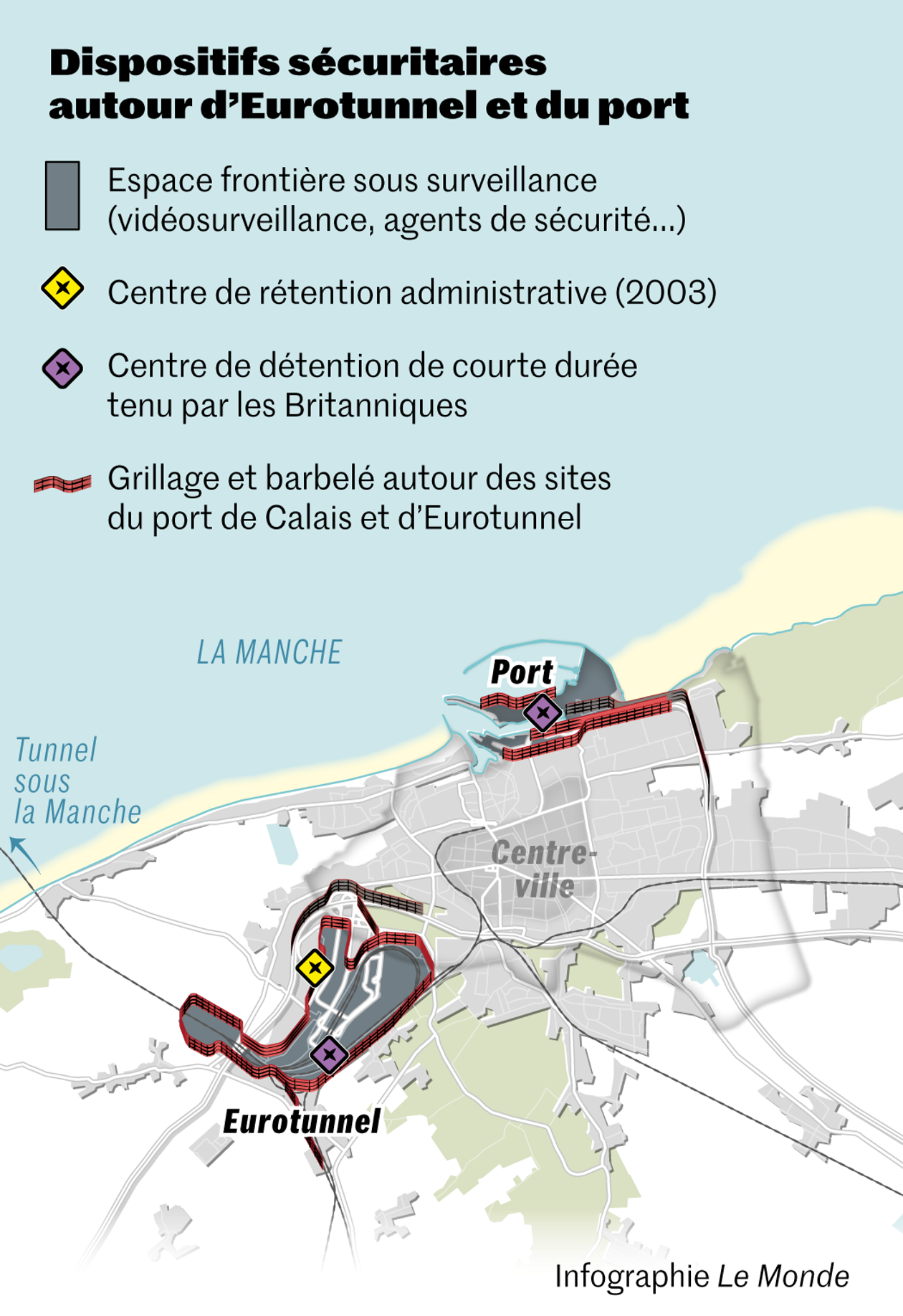 "Headquarters Policy"
Between the municipalities of Calais and Marck, for example, a trench was dug and an embankment built to block access to association vehicles, which came to distribute food, fill a tank with drinking water and offer telephone recharges. mobiles. The place was also deforested and plowed. Today, a mixer truck and diggers are busy building a logistics warehouse. The migrants therefore moved a few meters further, near of a grove. Among them, three Darfuris are seated around a fire which they rekindle with cooking oil to heat a can of corned chicken. Around, in the mud, empty cans, clementine peels, plastic bags, duvets… vestiges of those who preceded them and who joined England, or took refuge elsewhere.
You have 85.04% of this article left to read. The following is for subscribers only.
---
---