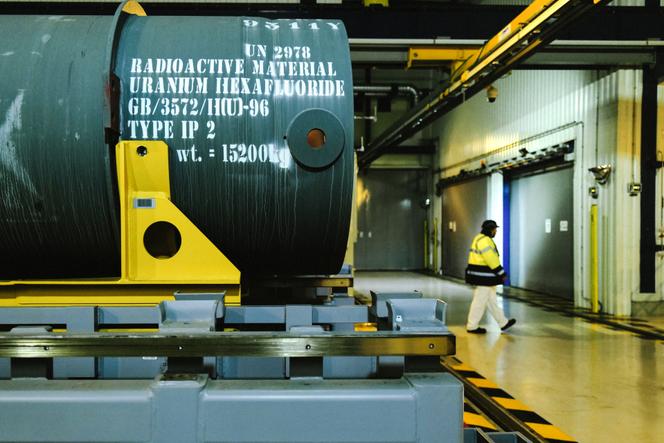 In the Georges Besse II uranium enrichment plant, on the Tricastin site in Saint-Paul-Trois-Chateau, on January 26, 2023. OLIVIER CHASSIGNOLE / AFP
It is for the moment only a piece of wasteland, swept by the mistral. But in a few years perhaps, a strategic nuclear installation will arise here. One more on this site which is one of the most nuclearized and monitored in Europe. In Tricastin, near Valence (Drôme), the Orano group, ex-Areva, aims to expand its current uranium enrichment plant George Besse II.
Under study in 2004, then abandoned due to the sluggishness of the market following the Fukushima incident, this extension project came out of the boxes, this time driven by the interest of energy companies anxious to reduce their dependence to the Russian Rosatom, an almost unavoidable player in terms of enrichment. Estimated at between 1.4 and 1.7 billion euros, this investment would enable Orano to increase its civilian enriched uranium capacities by around a third in the hope of capturing part of the needs currently met by the Russians.
"This project is really related to the conflict and the reduction of dependence on Russian supplies, it is not related to new nuclear (or) to the growing market share of nuclear in the supply of electricity", declared François Lurin , director of the Orano Tricastin site, Tuesday February 1st. "It will only be done if our customers have a real need for it," he added as negotiations are advanced with several of them, particularly Americans. Before granting the green light, the board of directors wants to be sure to sustain its order book over the next 10 or 15 years at least.
A crucial step in the cycle
Beyond these financial guarantees, the project must also be the subject of prior consultation under the aegis of the National Commission for Public Debate (CNDP) to inform and consult the French. It started on February 1 and will run until April 9. "The decision whether or not to carry out this project must in any case be taken this year if we wish to be able to put the plant into service from 2028", continues management, well aware that its future competitive advantage is partly based on its ability to deliver as quickly as possible. "Our customers will above all buy security of supply," she adds, advancing the argument that Russia could stop its exports as it did for gas. Which, as it stands, would lead to "nuclear fuel shortages" and "potential shutdowns of power plants".
An argument refuted by the anti-nuclear: "The George Besse II plant extension project will in no way guarantee an end to dependence on Russian enriched uranium in the short term", believes Pauline Boyer, head of the nuclear campaign at Greenpeace . In general, "Western energy sovereignty guaranteed by nuclear power is a decoy", she adds, pointing to other dependencies of the French atom, including that of natural uranium, "this raw material which is enriched in this plant is entirely imported from countries such as Niger, Canada, Uzbekistan or Kazakhstan".
You have 49.61% of this article left to read. The following is for subscribers only.
---
---