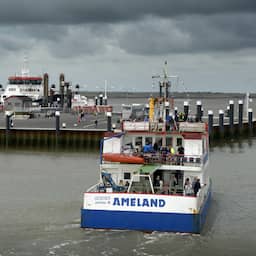 ---
Feb 04, 2023 at 7:53 PMUpdate: 2 minutes ago
On Monday, during low tide, between 4 p.m. and 6 p.m., fewer ferries will sail between the Wadden island of Ameland and the Frisian Holwerd. At times, the fairway is not safe to navigate due to silting up, reports shipping company Wagenborg. More services may expire in the coming months.
A number of ferry services were also canceled on Saturday. The director of shipping company Wagenborg, Ger van Langen, expects that more services will be canceled in the coming months if no solution is found for the silting up of the shipping channel. "Rijkswaterstaat is doing its best, but the process of silting is going faster than expected," writes Van Langen in a letter to Minister Mark Harbers of Infrastructure and Water Management in which he urges measures to be taken.
The government department regularly dredges the fairway, but nature legislation stipulates that the sand may not leave the area and is therefore dumped elsewhere in the Wadden Sea. It then quickly returns to the fairway. "In fact, you are pumping sand around," says Van Langen. As far as he is concerned, there must be a different solution, but leave it to Rijkswaterstaat to decide on that. He will have a meeting with officials at the ministry about this on Thursday.
The fairway has been a problem for some time. Wagenborg said earlier that the channel has become too narrow because it has partially silted up. In October, the shipping company therefore announced that it would switch to one-way traffic if the water levels are too low.
Rijkswaterstaat says that it is a known problem, but according to a spokesperson, it cannot say anything about it at the moment.
---
---